PRODUCTS
Centerless Grinding Epoxy Control Wheels
Grinding and Polishing Tools
Grinding Wheels

CBN Wheels

Diamond Tools

Coated Abrasive

Coolants

Related Products
Technical Support

Catalog Download

Grinding & Polishing Technical Information "NORITAKE TECHNICAL JOURNAL"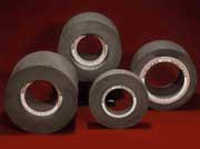 The epoxy control wheel is a newly developed control wheel for centerless grinding.
Epoxy bonding material is used which has twice or more the inverse intensity of rubber control wheels (R30, R40) as well as the same bending strength. This also reduces wear even further and enables high-precision centerless grinding.
The options for the grain consist of A and HN (zirconia); HN in particular has excellent wear resistance. The bonding materials include YEPN4 for in-feed grinding and YN1 for through-feed grinding. It is available in grit sizes of F80 – F220, with a hardness of Z for YEPN4 and R for YN1, and structures 6 – 8 for YEPN4, and 3 for YN1.
Excellent wear resistance.
Allows high-precision centerless grinding.
Minimal grinding chatter.
In-feed centerless grinding
| | |
| --- | --- |
| Grinding wheel | Control wheel A100Z7YEPN4 |
Through-feed centerless grinding
| | |
| --- | --- |
| Grinding wheel | Control wheel HN120R3YN1 |