Welcome to Noritake TCF
At Noritake TCF, we work hard to meet the diversified needs of users through the development of products based on advanced, cutting-edge technology that respond to the demands of our age.
We apply advanced technologies in crushing, cutting, mixing, printing, and baking developed at the Noritake Company, to provide all kinds of industrial furnaces, including semiconductor-related machinery and firing kilns for producing electronic components.
As a solution provider, we're a comprehensive manufacturer that is actively engaged in environmental policies that include high-precision, high-efficiency operation, energy saving, labor and resources saving in relation to industrial furnaces, and we also provide maintenance services.
Our machinery and equipment has become deeply embedded in the manufacture of automobiles, semiconductor home electronics, tableware, and batteries — the things that surround us every day.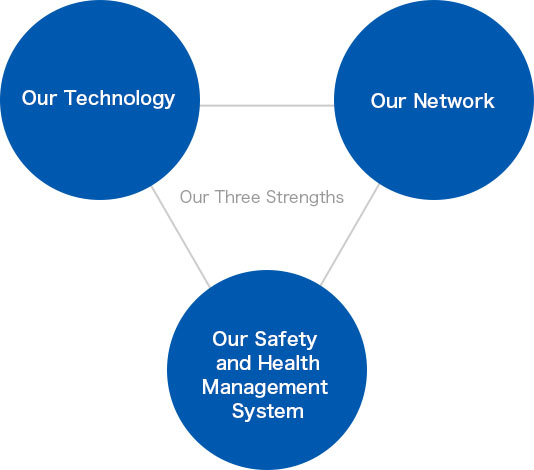 Our Technology
We've applied the core technologies and proprietary expertise our company has developed over many years, and constantly adopt leading-edge technologies to build an organization that can offer all kinds of furnaces to meet any needs regardless of scale or type.
What are the core technologies of TCF?
High-purity heat treatment technology, super-high-temperature treatment technology, atmospheric control technology, furnace control technology, technology for raising furnace temperatures, and technology for constructing furnaces.
Our Network of Partner Companles
Our network of more than one hundred partnered companies in Japan creates a flexible response to a wide range of demands from jobs employing a few workers to jobs employing hundreds.
In addition, we offer services that cover not just all of Japan, but most countries around the world.
Our Safety and Health Management System
All our personnel, including employees of Noritake TCF as well as those of our partner companies, are keenly aware of our safety policies and put safety first as they carry out their work. We promote the creation of a safe work environment totally free from accidents and injuries.

ISO9001 JQA-2456
ISO14001 JQA-E-90071
Since the quality control policy of Noritake TCF is the embodiment of our most important philosophy of "putting the customer first means putting quality first", we work each and every day to improve our products. We also promote environmentally friendly business practices at Noritake TCF.