MANAGEMENT SYSTEM
Management System
Environmental Management System
Lead by the President as the environmental protection supervisor, the Noritake Group promotes environmental protection activities from a corporate stance. Furthermore, the Group has set up the Environment Committee to promote environmental protection activities in a structured and systematic manner. Chaired by the Vice President, the Environment Committee sets unified guidelines for environmental protection activities. A separate Environmental Protection Promotion Committee has also been formed to operate planning and promotional management of environmental protection activities as well as the evaluation of outcomes. Such activities are implemented under the responsibility of operating groups and each operating group has its environment committee. Also, the Group's companies each formed the Environmental Risk Research Group and Green Procurement Coordinating Committee and they operate environmental protection activities in a manner so that they support the environmental committees in implementing their activities.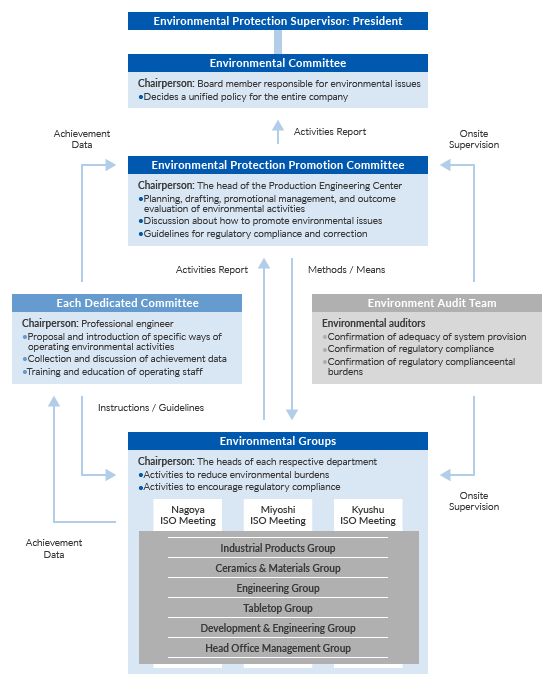 Using the Environmental Management System
Our environmental management system was constructed to facilitate promotion of environmental efforts throughout the entire Noritake Group. Using our environmental management system, our environmental groups can use environmental auditing to check the results of their activities, and our aim is that by developing plans for solving environmental issues discovered in this way, we can continually make improvements to the system.