HARMONY WITH THE ENVIRONMENT
Harmony with the Environment
Our ESG
Corporate Governance

Together with Communities

Harmony with the Environment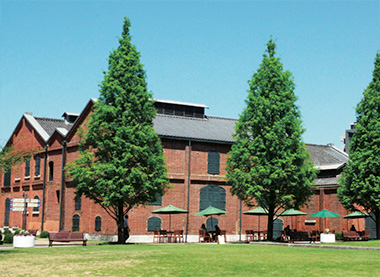 In order to "achieve a sustainable society," the Noritake Group has acquired certification under the international standard ISO 14001 at all of our major domestic business sites and promotes environmental activities such as developing environmentally-friendly products and taking countermeasures on global warming. In particular, as a measure against global warming, we believe that the use of renewable energy has a significant effect on the reduction of greenhouse gases, and we have installed solar power generation facilities at our domestic offices, including Noritake Garden.
※The report "12. Harmony with the environment" (P41 to 48) was created using data from NORITAKE CO., LIMITED, HIROSHIMA KENMA K.K., NORITAKE COATED ABRASIVE CO., LTD., ZEN NORITAKE CO., LTD., NORITAKE RECYCLE CENTER CO., LIMITED, KCM CORPORATION, KYORIX MIE CO., LTD., NORITAKE ITRON CORPORATION, NORITAKE TCF CO., LTD., NORITAKE GARDEN CO., LIMITED, PT. NORITAKE INDONESIA, NORITAKE SCG PLASTER CO., LTD., NORITAKE TAIPEI CO., LTD., and NORITAKE LANKA PORCELAIN (PVT) LIMITED.
Environmental action policy
Environmental Policies
The Noritake Group, as a company that manufactures products based on its founding spirit of "Good Quality, Export and Co-prosperity," positions the preservation of the global environment as an important management issue, and is contributing to the achievement of a "sustainable society" through its business activities.
We will strive to develop and provide environmentally-friendly products and services.
We will endeavor to reduce environmental burden in all processes of our business activities. In particular, we will strive to achieve the goals set for the reduction of CO2 generation, resource saving, waste reduction, and recycling, and to manage hazardous substances appropriately.
We will build Environmental Management Systems from a global perspective and strive to reduce environmental burdens continually.
We will comply with environmental laws, regulations, and other requirements.
We will disclose information about our environmental activities and enhance our communication activities with stakeholders.
Aim
The Noritake Group as a whole will make efforts to promote voluntary environmental protection activities, actively work to reduce the environmental burdens and risks that occur in our business activities, and aim to contribute to global environmental protection. In addition, we will strive for co-prosperity with our stakeholders by implementing environmental management that balances environmental protection and generating business profits.
11th Three-Year Environmental Action Plan initia tives
In the 11th three-Year Environmental Action Plan starting in fiscal 2019, we aim for environmentally friendly business activities by advancing the integration between our business activities and environmental action. We are linking our countermeasures for global warming and our resource recycling activities with our manufacturing enhancement work in an effort to eliminate "unreasonableness, inconsistency and waste," thereby reducing environmental burdens such as greenhouse gases and landfill waste. We will also move to increase products that are friendly to the environment.
Although there was a delay during 2019, the first fiscal year of the plan, in reducing greenhouse gas emissions and increasing environmentally friendly products, other efforts were accomplished according to plan.
During fiscal 2020, we will continue to move forward with the 11th Three-Year Environmental Action Plan in efforts to build an environmental management framework that unifies our business activities with environmental action.
11th Three-Year Environmental Action Plan
(Fiscal 2019 to 2021 plan and results of the plan through fiscal 2019)