PRODUCTS
NORITAKE TECHNICAL JOURNAL of Grinding & Polishing Technical Information
Grinding and Polishing Tools
NORITAKE TECHNICAL JOURNAL of Grinding & Polishing Technical Information
Here, we bring you technical information that introduces Noritake's vision of the future, as well as new technology and products that can solve your issues and concerns. We will be happy if the information presented here can be of use to you.
* If you register using the registration form below, you will be able to access NORITAKE TECHNICAL JOURNAL free of charge. We also provide some sample pages that you can refer before registering.
* If you have forgotten your password, please enter your information into the registration form again.
---
The front cover and contents
Noritake Academy [Technology Course]~ Explanation and Noritake Viewpoint ~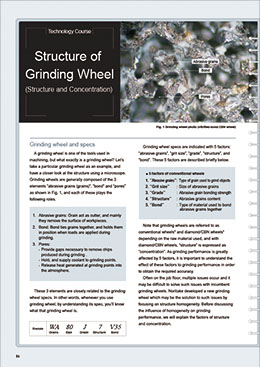 Structure of Grinding Wheel (Structure and Concentration)
* You can refer the front cover and contents page before registering.
Noritake Proposals~Featured Products and Technology~
NORITAKE TECHNICAL JOURNAL of Grinding & Polishing Technical Information