CORPORATE GOVERNANCE
Corporate Governance
Our ESG
Corporate Governance

Together with Communities

Harmony with the Environment
Basic approach and basic policies toward corporate governance
The globalization of business is progressing, and social responsibility for the impacts of corporate activities is coming under severe scrutiny. At the Noritake Group, every officer and employee inherits the founding spirit of our company, and, by observing and practicing the Noritake Group's Code of Ethics formulated on the basis of that founding spirit, embodies a Noritake Group that holds to higher corporate ethics. In addition, by providing financial information through our website, we will strive to actively and fairly disclose information and heighten the transparency of our management.
The basic policies concerning our Corporate Governance Code are shown on the right.
Basic policies
Strive to ensure the rights of shareholders and fairness.
Strive for appropriate cooperation with stakeholders other than shareholders (customers, suppliers, creditors, local communities, employees, etc.).
Strive to ensure appropriate information disclosure and transparency.
Strive to appropriately carry out the roles and responsibilities of the Board of Directors to enhance sustainable growth of the company and medium- to long-term corporate value.
Strive for constructive dialog with shareholders.
Corporate Governance Structure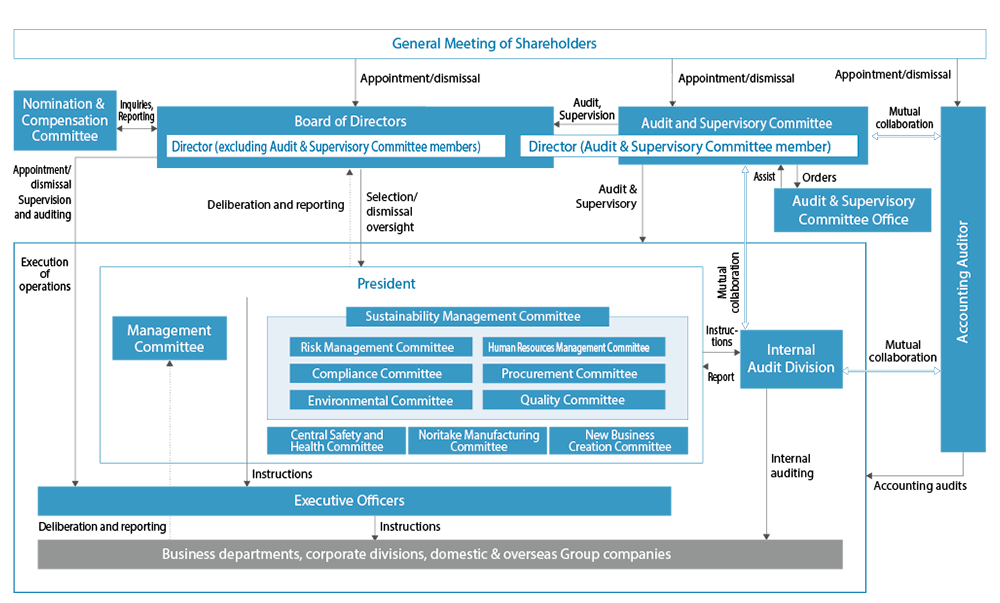 Major conference bodies
As an organization that makes decisions on basic principles of management, matters stipulated by law, and other key matters, the Board of Directors has introduced an executive officer system to clarify executive responsibilities and the delegation of executive authority, in order to strengthen functions for prosecution of work performed on the basis of decisions by the Board of Directors. In addition, to promote the early appointment and promotion of talented human resources, the Board of Directors introduced a new Executive Officer system on April 1, 2019. The Board of Directors also establishes conference bodies to strengthen its oversight and monitoring functions, for the purpose of further reinforcing and enhancing our corporate governance structure.
Board of Directors
To make decisions on key matters and monitor the prosecution of work, the Board of Directors joined by executive officers engaging in prosecution of work meet once a month regularly to build a consensus among the Group as a whole. The Board of Directors also appoint two Directors (Outside) as part of a system to strengthen oversight functions and ensure transparency in decision-making.
Management committee
Regarding key matters for management that involve prosecution of work, we conduct full deliberations in a Management committee, convened once a week regularly and composed of internal Directors and executive officers designated by the President, as part of a system for precise and prompt management decision-making.
Audit & Supervisory Board
The Audit & Supervisory Board is composed of four persons (two Audit & Supervisory Board Members and two Audit & Supervisory Board Members (Outside)). They make clear of their roles and the policy of auditing, and receive reports on the implementation status and findings from Audit & Supervisory Board. Also they communicate and collect information from the Board of Directors and the Auditing Office, that serves as an internal auditing department. Moreover, Audit & Supervisory Board Members attend important meetings including those of the Board of Directors and Management Committee, receive reports on the status of prosecution of work by Directors, and request explanations as required. Our company considers functions for objective and neutral monitoring of management from outside to be important in corporate governance, and has prepared a structure by which management monitoring functions are ably performed by two Audit & Supervisory Board Members (Outside).
Internal control system
Our company has established internal control regulations for financial reporting as an internal control system, and performs continuous monitoring of work procedures to ensure the reliability of financial reporting. We have also established internal auditing regulations and conduct internal audits involving the legal compliance of the business activities of our business divisions and Group companies. Key matters discovered through these initiatives are reported to the Management Committee.
In addition, we have established a Compliance Committee that promotes the communication and observance of the Noritake Group's Code of Ethics, and that works through these activities to ensure the properness of work.
We also conduct reviews of our structures to ensure the properness of work and structures concerning oversight, in accordance with revisions to laws and the current state of our Group. Our current Basic Principles on Internal Control Systems were revised through resolution by the Board of Directors on May 12, 2015.
Status of Directors (Outside) and Audit & Supervisory Board Members (Outside)
We bring in outside Board members who have extensive experience and broad insight regarding business management, to provide thorough counsel on matters spanning the overall management. Outside members also strengthen Board of Directors monitoring functions and enhance the transparency of decision-making.
Outside members have no personal, capital, or business relationships or other conflicts of interest with our company.
Status of activities of outside officers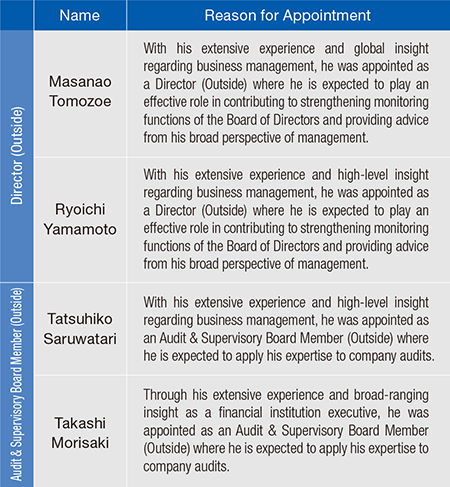 Training for board members
When we appoint new members to Directors and Audit & Supervisory Board, we conduct appropriate explanations about the legal duties and responsibilities to be observed and make use of external training bodies as necessary. We also offer seminars to the members, to acquire higher skills and new knowledge required for them to perform better. For outside members, we also create individual opportunities to acquire our management strategy, the content of our business and work, financial information, and more.
Policies concerning the determination of compensation for Directors
Compensation for Directors is composed of fixed compensation and performance-based compensation.
Fixed compensation is determined by the Board of Directors, with the position-specific compensation amount set by the Representative Director based on hearings of the opinions of outside officers, appropriate to the roles and duties of the Director or other person.
Performance compensation is determined in accordance with degree of achievement of corporate performance targets (consolidated sales, consolidated operating profit, etc.) for the fiscal year based on regulations for the granting of stock, as an incentive for management that takes into account medium- to long-term improvement in corporate value. The ratio of fixed compensation to performance-linked compensation is set with an emphasis on stability and improvement of medium- to long-term performance, avoiding an excess percentage of performance-linked compensation.
Total amount of compensation, etc. of Directors and Audit & Supervisory Board Members (fiscal 2018)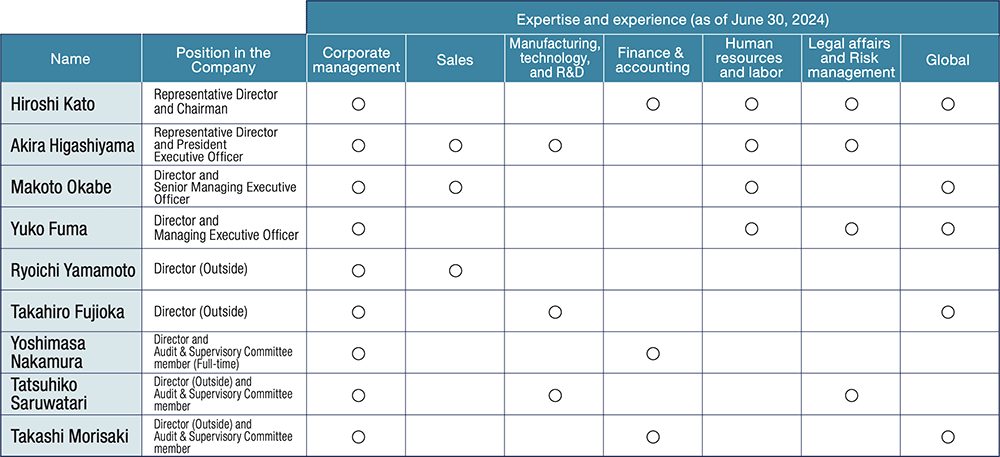 Promotion of supply chain management
We believe that supply chain management is important for the Noritake Group to continue stably with our business. We work to build mutual relationships of trust with all of our business partners, and to engage in transactions in compliance with the laws of each country. We proceed to purchase environmentally-friendly raw materials, and pay well attention not to consume ores originating in areas of conflict.
Enforcement of compliance
The Noritake Group has established a Compliance Committee and is working to strengthen our compliance structure. We appoint a compliance manager in every Business Group or Group company, and perform meticulous activities related to compliance. In addition to training for the acquisition of expert knowledge, we provide easily understood explanations of laws and ordinances in every issue of our internal newsletter with case examples that relate to our everyday work to make these understood by all employees.
Preparation of an internal reporting system
We have a contact desk inside and outside the company so that all employees can consult and report directly without going through managers in case discovering acts that violate or may violate laws, ordinances, standards of conduct, company rules and so on. Persons reporting and the content of reports are kept confidential, except when otherwise required. No disadvantage is taken toward the persons by the company for having made consultation or reporting.
Compliance Structure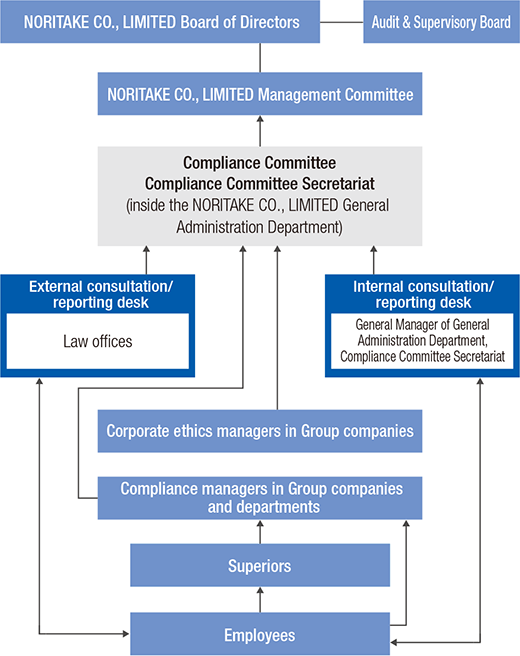 Initiatives to prevent corruption
In the Noritake Group's Code of Ethics, we set forth ethical standards for the prosecution of work and the observance of laws and ordinances concerning the prevention of bribery and other improprieties, and ensure that these standards are met by all employees.
Preparation of a risk management system
We have risk management rules so that, when faced with the risk of a loss of corporate value due to problems in management, accident or disaster, we can mitigate losses to the extent and continue with our business. Safety is taken on the highest priority, especially to secure human life. In the case of an emergency, we set up a task force immediately to respond to the risks.
We also have a risk management structure in which we assume the occurrence of all manner of risks and make these continually known to all employees, so as to enable prompt and appropriate response in the event of emergency.
Strengthening of information security
With regard to the protection of personal information and other information assets, we have information security management rules in order to eliminate risks and safely carry out business activities. These rules indicate a code of conduct concerning information security for all officers and employees. We create and employ countermeasure standards and implementation manuals based on this code.
We also have a promotional division under the officer in charge, and are working to strengthen security. To guard against unauthorized access and cyber attacks, we perform strict ID management, logging of PC access, 24-hour monitoring at our Security Operation Center. Drills for targeted e-mail are taken place periodically.
Policies for the protection of personal information
The Noritake Group fully recognizes the importance of the protection of personal information. We comply with Japan's Act on the Protection of Personal Information and heed the laws of other countries as well, and properly manage the personal information provided by customers.
Reference URL (Protection of Personal Information)
https://www.noritake.co.jp/eng/utility/privacy_policy/
Disaster readiness and disaster mitigation initiatives
Twice a year at every workplace, we perform evacuation drills that assume a large-scale disaster.
We have also begun formulating business continuity plans (BCPs) for some businesses.