TOGETHER WITH COMMUNITIES
Communication with stakeholders
ESG Initiatives
Corporate Governance

Together with Communities

Harmony with the Environment
Communication with shareholders and investors
We hold an Annual General meeting of Shareholders at the Noritake Company headquarters in Nagoya City every year in late June. The 140th Annual General Meeting of Shareholder of June 2021 was held with less people than usual due to the spread of COVID-19.
In addition, after the announcement of these financial results and the second quarter results, we ordinarily hold a financial results briefing for securities analysts. Yet this was canceled in Fiscal 2020 due to the spread of COVID-19, and instead explanatory materials were uploaded to the website.
Additionally, we are continually improving the website so that shareholders and investors can easily obtain various types of information such as business reports and financial results announcements.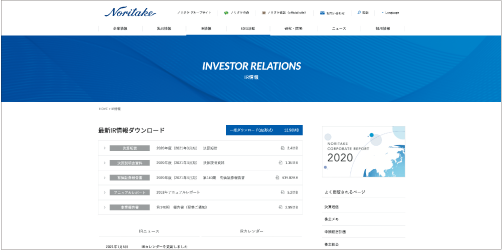 Communication with business partners
The Noritake Group shares information such as information about the economic environment and trends in the industry and our procurement prospects with our business partners in order to establish and maintain good relationships. We are also making efforts to ensure safety and health. In particular, the Engineering Group, which receives cooperation from many business partners in manufacturing and construction, regularly holds seminars to prevent occupational accidents.
 In addition, we regularly conduct seminars on the Subcontract Act within Noritake to ensure that employees are thoroughly informed.
Communication with customers
In order to reflect customer feedback in our products and services, and to ensure that customers can use our products safely, we have set up a customer service center within the Tabletop Group to build a system to share customers' opinions and inquiries.
Product safety
The Noritake Group strives to ensure that customers can use our products safely. We carefully consider product safety in all our processes from research and development to design, manufacturing, distribution, and sales. To that end, we comply with laws and regulations, as well as with standards that we establish on our own. In addition, we strive to prevent accidents caused by incorrect usage by including easy-to-understand instruction manuals with our products.
In the event that an accident or problem occurs due to a product or service provided by Noritake, we will promptly communicate this information to customers and minimize the spread of damage in a prompt and appropriate manner. Also, in order to prevent recurrence, we will work to create a system to thoroughly investigate the causes of incidents.
Communication with employees
In order to provide Noritake Group employees with awareness regarding company policies as well as education, Noritake publishes the Japanese edition of the Noritake Group internal newsletter "SAKIGAKE" 12 times each year, and distributes the global edition four times each year. In addition, this publication, the Noritake Corporate Report, is distributed once a year.