Social Activities
Our Commitment to Local Communities
The Noritake Group operates activities in the best interest of local communities so as to fulfill its social responsibility as a good corporate citizen.
The Noritake Garden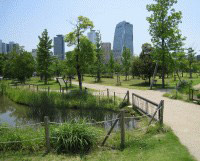 The Noritake Garden was established in 2001, in the vacant part of Noritake headquarters premises in Nishi-ku, Nagoya, Japan, where our first tableware factory used to be, to express our gratitude to the local people for their great support that we had received since its establishment.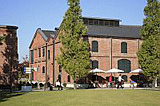 This garden is open to public as a place where visitors can enjoy and experience the culture and history of ceramic manufacture. It also contributes to the local communities and environment as a green space in the urban area. We support the activities of local fire department, providing a space in the Garden for their fire prevention campaigns.
Corporate activities
Head Office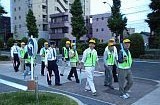 Noritake employees volunteer to clean the areas around the factory once a month, and do the anticrime campaign with local police officers and residents.
Komaki Factory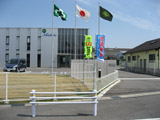 Komaki Factory engages in the traffic safety movement, conducting activities on No Road Accident Day on the public road.
Sri Lanka Factory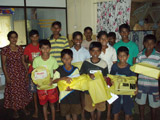 Since our factory was established in 1972, we have maintained a good relationship with the local communities in Sri Lanka for over 30 years.

Corporate activitiesNoritake donate commodities such as clothes, shoes and stationeries, to the hospitals and orphanages near the factory. We have established Noritake Scholarship Foundation, granting scholarships to the children who are in need of financial support for education. In 2008, 23 students were awarded by this foundation.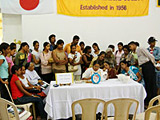 Noritake participates every year, in the Japan-Sri Lanka Friendship Commemorative Event in Colombo, Sri Lanka, which is co-hosted by The Japan-Sri Lanka Friend Association and the embassy of Japan. The event has many programs such as concerts performed by the Japanese and Sri Lankan and workshop of Kimono wearing. Noritake demonstrates a tableware decoration at this event.