RESEARCH & DEVELOPMENT
Fuel Cells
Fuel Cells / Materials for Fuel Cells
Noritake develops materials and components for solid oxide fuel cells (SOFC) and polymer electrolyte fuel cells (PEFC) by applying the profound technologies for ceramics and materials which we cultivated through manufacturing tableware. Multiple researches from different angles are conducted, such as researches on electrical characters, material compositions, and size control to nano level. SOFC and PEFC are expected to be applied for automobile use as well as household and industrial use. Moreover, the materials used for SOFC and PEFC have great potentials for further applications.
SOFC materials by Noritake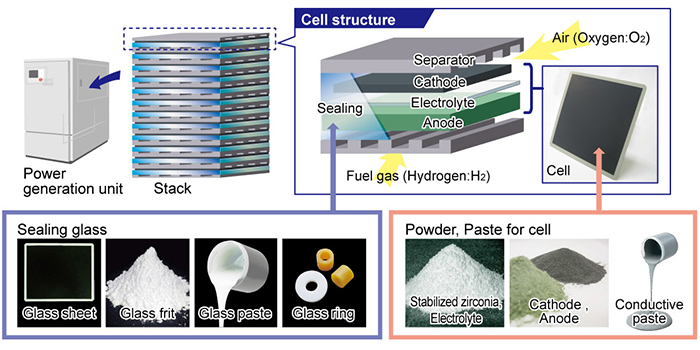 Making CO2 free SOFC possible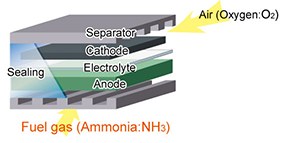 Noritake has developed ceramic cells and sealing glass for ammonia fuel cells.
Hydrogen (H2) gas for fuel cell application is produced from town gas (Methane, CH4) through a steam (water/oxygen)-methane reformation and partial oxidation process. The issue in this hydrogen production process is the generation of CO2 as the byproduct. Introduction of ammonia (NH3) gas as fuel, which does not contain carbon, can be an alternative fuel, which can lead to a CO2 free power generator and Noritake has made this possible.
This work was supported by Council for Science, Technology and Innovation(CSTI), Cross-ministerial Strategic Innovation Promotion Program (SIP), "energy carrier"(Funding agency:JST).

---
Please contact us for further inquiries.
【Development & Engineering Group】
TEL : +81-561-34-5111+81-561-34-5111  FAX : +81-561-34-4997