RESEARCH & DEVELOPMENT
Decoration Technology of Tableware
Pieces such as vases, pots and show plates created in Noritake's early days, now referred to as "Old Noritake", were decorated using distinctive decorating techniques. Many of them were decorated by the hands of highly skilled craftsmen using materials which are no longer available today. Bringing back these techniques and materials to today is very difficult. However, Noritake has been working on the development of new materials and techniques with the intention of reviving such decorative designs. We also aim to create the unprecedented means of expressions with our new technology.
The decorating techniques which are seen in "Old Noritake" include the followings: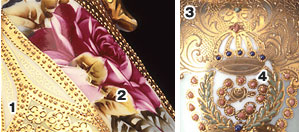 Moriage (raised decoration on ceramics):
Slip clay (runny clay) and pigments are applied to the surface of ceramics to create three dimensional decorative effects.
Kin-mori (raised gold decoration):
To give a finished look, gold is painted with a brush where the Moriage technique is applied. (See 1 & 3 in the pictures)
Enamel-mori (raised enamel decoration):
Opaque and lustrous glassy pigments are used to create raised decoration. Colors such as red, blue and green are used for pigments. Also known as "Hoseki-mori" (raised jewellery decoration. (See 4 in the picture on the right)
Sugaki (hand-painting)
Images and patterns are drawn directly onto ceramics by highly skilled craftsmen. (See 2 in the picture on the left)
Development of new materials and new technology
Environmentally Conscious Materials
New materials have been developed to represent designs which are vibrant yet eco-friendly.
Printing Technology
While considering the rich expressions and inspirations embraced in "Sugaki" (hand-painting), the printing technology we use is constantly improved to ensure stable production. The printing technology is also used to recapture the expressions created using the "Kin-mori" technique.
Decoration Technology
In order to re-create hemispherical-shape of "Kin-mori" and "Enamel-mori" decoration using modern technology, new materials suitable for fixing raised decoration to the surface of ceramics are needed, so are various techniques such as glazing and firing. Noritake works to develop new techniques and processes in search of rich expressions.
Examples of the techniques developed by Noritake
Red and Orange Pigments not using Hazardous Materials
Vivid red and orange are very important colors, often used in flags and corporate logos for eye-catching.
In ceramics paintings, it is difficult to express these vivid colors because firing at high temperature is required. So, pigments containing environmentally hazardous selenium and cadmium have been commonly used in the market. Although these harmful materials do not easily get released from properly fired dinnerware and have no influences to human bodies, Noritake has worked and developed new eco-friendly pigments that do not contain selenium and cadmium.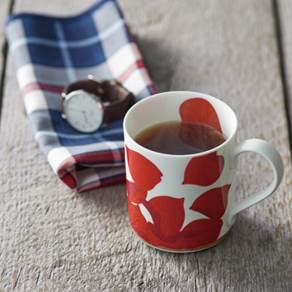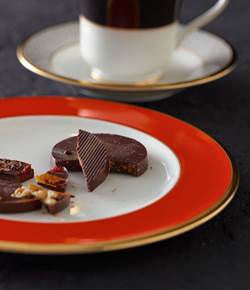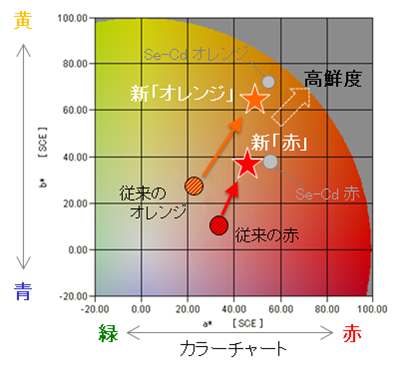 Tomei-mori (raised translucent decoration)
Transparent and lustrous jewellery-like raised decoration is arranged on tableware to give a sense of superiority to a dining occasion. In order to realize this decoration technique, not only development of materials but also developments of glazing processes and firing conditions are important points to the success. With our basic technologies, Noritake will keep moving forward to develop new pigments and techniques to express the sensitive expressions to impress the world.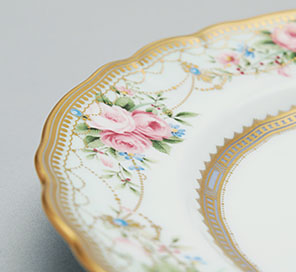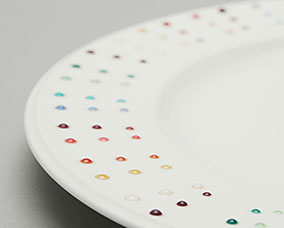 Please contact us for further inquiries.
【Development & Engineering Group】
TEL : +81-561-34-5111+81-561-34-5111  FAX : +81-561-34-4997