HARMONY WITH THE ENVIRONMENT
Management system
ESG Initiatives
Corporate Governance

Together with Communities

Harmony with the Environment
Environmental Management System organizational structure
We have established an environmental protection promotion system having the president as the Environmental Protection Supervisor.
The Environmental Committee, chaired by the company President and with members comprising managers in charge of each business, deliberates the activity plan based on the results of the activities and approves unified guidelines for environmental protection promotion activities at the Management Conference.
For environmental protection activities in each business, Environmental Groups chaired by managers in charge of business are established in each Business Group to plan initiatives and manage progress in line with business activities.
In addition, the Environmental Protection Promotion Committee is held on a regular basis to plan and manage environmental protection activities and evaluate the results of activities.
In addition, in order to operate the Environmental Management System in cooperation with each region, we hold "ISO Meetings" in various locations.
Environmental management organization and structure
Operation of Environmental Management System
In efforts to appropriately implement environmental management, we have established an Environmental Management System based on the international standard ISO14001 and are continuously promoting environmental protection activities. We have received ISO14001 certification from a third-party organization at all domestic production sites.
PDCA cycle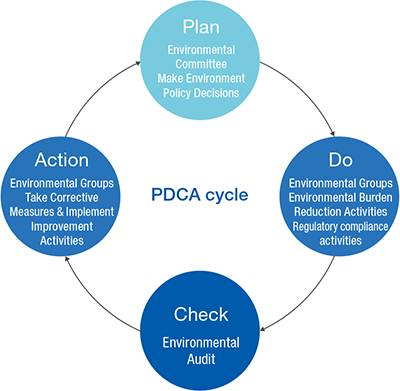 ISO14001 certified offices(Situation as of March 2021)
NORITAKE CO., LIMITED(JQA-E-90071 was obtained in 1997)
NORITAKE CO., LIMITED
Head Office, Miyoshi Site, Kamori Plant, Komaki Plant, Minato Plant, Matsusaka Plant, Yasu Plant, Kurume Plant, Imari Plant
NORITAKE COATED ABRASIVE CO., LTD.Head Office/Noto Plant
ZEN NORITAKE CO., LTD.
HIROSHIMA KENMA K.K.
NORITAKE ITRON CORPORATIONOmiya Office/Ouchiyama Office
NORITAKE TCF CO., LTD.
NORITAKE GARDEN CO., LIMITED
NORITAKE RECYCLE CENTER CO., LIMITED
KCM(JSAE393 was obtained in 2001)
KCM CORPORATIONHead Office/Head Office Plant
KYORIX MIE CO., LTD.Mie Plant
In addition to the above, overseas offices are also establishing Environmental Management Systems to promote environmental protection activities in the same way as in Japan.
They are setting up environmental systems considering the regional characteristics of each country, such as laws and regulations.

Results of fiscal 2020 group environmental supervision
In order to properly promote environmental protection activities, the Environmental Audit is conducted every year by the Environmental Protection Promotion Committee.
The Audit investigates the status of implementation of environmental activities at all plants and evaluate the results. In particular, in order to preemptively prevent environmental pollution, it focuses on on-site confirmation of production processes and facilities. In addition, by conducting this Audit, we are working to resolve problems and issues related to environmental burden reduction activities, and to help improve the overall system.
Average score rate for each audit item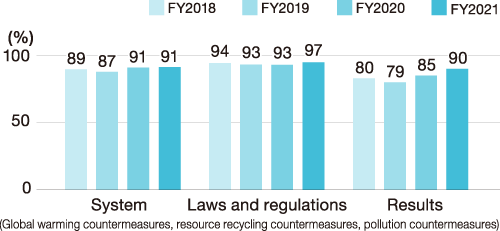 The Environmental Audit in fiscal 2020 evaluated the results of the environmental burden reduction activities in the Environmental Management System, legal and regulatory management, and the 11th Three-Year Environmental Action Plan.
As a result, we were able to confirm that management of relevant legal regulations and environmental pollution measures are being operated properly based on the procedures of the Environmental Management System. Yet as there is insufficient coordination between initiatives for environmental activities and business plans, fiscal 2021 will focus on policies with a higher level of effectiveness than coordinating with business plans.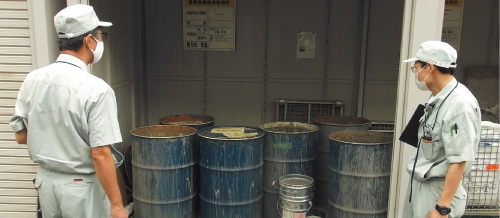 Environmental communications
In order to promote environmental protection activities throughout the company, it is important for each person, from management to new employees, to correctly recognize environmental issues and to raise awareness of environmental protection. Therefore, in addition to providing environmental education by qualification, we regularly disseminate information on environmental activities through our in-house newsletter to publicize environmental initiatives. We also hold specialized education for personnel who require specialized knowledge such as laws and regulations.
Furthermore, in order for as many people as possible to understand the Noritake Group's approach to the environment, we disseminate information in this report and on our website.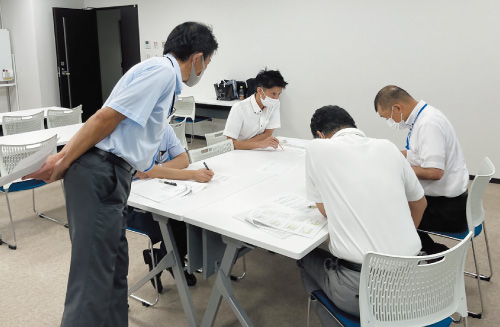 Regulatory compliance and complaints
Regulatory compliance and complaints
In fiscal 2020, there were no deviations or complaints regarding environmental regulations or standard values. In addition, there were no penalty or lawsuits from the supervisory authorities regarding the environment.
Devices containing PCB
For equipment containing PCB, we implement strict storage management, and proceed with appropriate processing sequentially based on the processing plan.