Tabletop
For Your Home

For Your Business
Technical Support

Catalog Download

You can create the exact atmosphere you need to express your individuality. We offer a rich selection of patterns for you to choose from.

We offer a wide selection of designs ranging from casual to formal so you are able to coordinate and choose the tableware you like, to fit the image of your outlet or cuisine.
Its pure transparency, gloss and elegant milky white color are characteristics of bone china that come from the combination of the ash of cow bones. Bone china was first discovered in England in the late 18th century and in 1932, Noritake was the first to make a bone china dinner set in Japan

Noritake Fine Porcelain is the flagship material from the maker who was the first in Japan to create a western style tableware by white hard porcelain ware. Derived from the excellent skills and reliable raw materials used in its creation, the characteristics of Noritake Fine Porcelain are its shining pure whiteness, beautiful gloss and excellent translucency.
Beyond the category, we create brand new style tableware with "Simple Beauty Shape" concept. N4 is available to every scene of dining and cuisine you imagine.

We have an abundant selection of designs and items in stock. Carefully selected ingredients and the right amount of polishing ensure a graceful product in its best possible condition.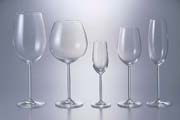 Glassware has a simple appearance that we sought to glitter brilliantly and be functional but at the same time beautiful. We have realized this high quality.