BUSINESS OVERVIEW
Ceramics & Materials Business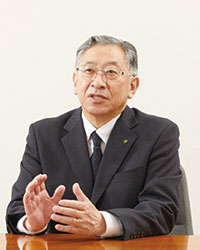 Crushing, mixing, molding, and decorating patterns... Our technologies cultivated through the manufacturing of tableware produce outstanding materials and components that play roles in many fields. These products support a number of industries including the manufacture of electronic components such as multi-layer ceramic capacitors and components for automobiles, medical devices, display devices, and jet engines.
Main products
●Electronic component raw materials
 Electronic paste
 Decalcomania paper
 Electronic ceramic powder
●Ceramic component raw materials
 Plaster
 Ceramic raw materials
●Electronic components
 Thick film circuit substrate
 Vacuum fluorescent displays and modules
●Other
 Catalyst carriers
 Ceramic cores
---
Performance in fiscal 2020
Sales have greatly increased for electronic paste because of the firm demand for electronics used in both high-speed cellular communications and in personal computers. Sales for raw materials for electronic components has increased due to stable demands for communication infrastructure and the recovery of the needs for automotive applications. Sales of thick film circuit have greatly decreased because of the lower demands from customers. Sales of plaster and catalyst carriers have also decreased both within Japan and overseas. Customers' production adjustments have resulted in lower sales of ceramic cores, and sales of ceramic raw materials and vacuum fluorescent displays have dropped significantly. As a result, net sales for the Ceramics & Materials Business were at 32.780 billion yen, a YoY increase of 1.7 percent, and operating profits were at 3.099 billion yen, a YoY increase of 39.7 percent.
Progress of the Three-year Business Plan
FY2020 was a year that saw disparities in progressing plans for our products because of the impacts from the spread of COVID-19. Materials for multi-layer ceramic capacitors (MLCC), used in electronics, trended favorably, with the increase in working from home, the greater adoption of 5G and the increasing number of base stations for 5G. Electronic paste has increased the production capacity of new plants, expanding our market share for product development. We also strengthened our development by concentrating on our core competencies. We have increased production capacity and operations for electronic materials and for MLCC-specific needs. There were also products that suffered from decreased demand and production adjustments, and we turned our attention to improving the capabilities of catalyst carriers and improving the productivity for ceramic cores. Business systems for products, such as electronic displays and thick film circuit substrates, has been reviewed.
Decalcomania paper

Ceramic raw materials for electronic parts

Plaster products

Electrode paste

Vacuum fluorescent displays

Ceramic cores
Our medium- to long-term business vision
In the midst of drastic changes within the social environment, our business, with its focus on precision technologies for pulverizing and dispersing inorganic materials like ceramics and precious metal will keep on offering new value. We continue to provide top-ranked materials to a wide range of markets for areas such as information technology, automobiles, and construction materials. With the increase in remote work because of COVID-19, there has been a sudden spike in demand for computers, cellular devices and telecommunication devices. We have continued to supply materials needed for the electronic components.
The key to success for this business is to keep meeting the needs of both customers and society in leading-edge fields. In order to meet the needs, we must focus on 5-year and 10-year plans for the future market and work on organizational reform. We have been making such changes up until now, but the focus has been on reforming organizations where problems were already apparent. Organizations without obvious problems were maintained as-is. Given the speed at which the business environment is changing, we need to change to new ideas and approaches. Failing to do so means that we will be left behind the society as it changes at ever faster rates. We will keep making new challenges as we review our business and organizations thoroughly, including development, manufacturing and sales. We will not rely on a few talented employees to lead the innovative changes. Rather, we will work together with all employees step by step to make reliable changes.
Moving forward, we anticipate that there will be new products and business opportunities for the digital transformation (DX) that results from greater advances in information communication technologies, and from carbon neutral policies that bring everyone's focus to preserving the global environment. Our role will be to create and offer new products and values which will contribute to both the customers and the environment.
TOPICS
More Ceramic Core Production Lines
Ceramic cores are a consumable good used for precision casting in the formation of gas turbine, jet engine dynamic and static blade casting processes because they can be used stably even in high temperatures to create a hollow core. Despite being consumable goods, ceramic cores contribute greatly to higher efficiencies for gas turbines and jet engines. The ceramic core market was impacted significantly when there were slowdowns in energy production and aviation equipment production because of COVID-19, but because we expect future increases for demand, a new production line for ceramic cores was added at the Matsuzaka plant. During this, we addressed issues raised from the existing manufacturing lines in the Miyoshi plant, and solved these issues with Noritake Manufacturing knowledge and expertise. In addition, splitting the manufacturing into two location supports our business continuity plans.