BUSINESS OVERVIEW
Ceramics & Materials Business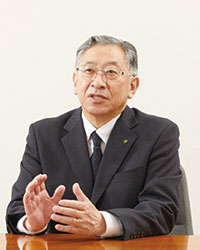 Crushing, mixing, molding, decorating, etc. These are some of the techniques of the Ceramics & Materials Group. We dig deeply into technologies for manufacturing ceramics, to produce one-of-a-kind materials and components.
---
Main products
The Ceramics & Materials Group is active in a variety of industries with products characterized by high quality, including electronic paste, decalcomania paper, ceramic raw materials, thick film circuit substrate, vacuum fluorescent displays, plaster, ceramic cores, catalyst carriers, and electronic components.
Decalcomania Paper

Electrode paste

Ceramic Powder for
Electronic Components

Vacuum Fluorescent
Display

Plaster Products

Thick Film Circuit
Substrate

Ceramic Cores

Catalyst Carriers
---
Business overview of fiscal 2018
In fiscal 2018, both net sales and operating profit increased beyond their levels of the previous fiscal year. This was primarily due to ongoing high multilayer ceramic capacitor demand, and growth in sales of electronic paste and electronic components. We also expanded sales overall, with growth in catalyst carriers, ceramic cores, and plaster, especially overseas.
Future outlook and initiatives
Amid the evolution of communications systems and the growth of electric vehicles, demand for electronic components such as multilayer ceramic capacitors and inductors is expected to expand. Our business will meet this demand through increased production and continuous development of materials for electronic components.
We also foresee expansion in the environmental power generation sector, which we plan to make a new cornerstone of our business by undertaking development of paste for piezoelectric material electrodes.
TOPICS
Catalyst carriers are used in the creation of raw materials for PET bottles, detergents, chemical fibers, and more. Improving their performance both aids the improvement of yields in customers' plants and leads to the reduction of wastes.