BUSINESS OVERVIEW
Engineering Business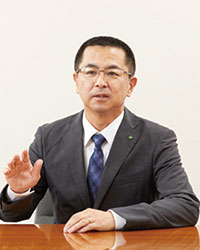 With our core technologies of heating, mixing, filtering, and cutting, we provide wide range of engineering equipment to a variety of industries including automotive, electronic components, chemicals, medicines, and food. We contribute to greater efficiency and energy savings in the manufacturing workplaces. We develop and design drying furnaces, heating furnaces, mixing and stiring machines, filtration equipment, cutting machines, and other equipment to match the customers' needs.
Main products
●High-efficiency heating furnace roller hearth kiln ●Far-infrared drying furnace ●Mixing and stiring machines (static mixer, etc.) ●Cutting machine ●Carbide-tipped circular sawing machine
---
Performance in fiscal 2020
Sales of our primary drying furnaces and heating furnaces have been down for major customers, given the delays in equipment installations and the restraint for equipment investment that resulted from COVID-19. Sales for mixing and stiring machines remained good for food industry, but sales were weak for chemical customers. Sales were lower for filtration systems.
There were orders for large-scale devices for domestic machine part customers, but overseas demand trended lower. Sales for carbide-tipped circular sawing machines declined dramatically, given the slump of automotive and industrial machinery customers both domestically and overseas. Engineering Business net sales therefore were 18.720 billion, down 16.2 percent YoY, and operating profits were 1.871 billion yen, down 28.5 percent YoY.
Progress of the Three-year Business Plan
The Engineering Business is involved in promoting the development of competitive new products and new technologies for the 11th Three-year Business Plan. Installation work is needed when delivering new equipment, but after overseas travel restrictions were announced in early FY2020, we have been unable to work onsite. We have also been unable to meet with customers to share our new products and to identify new markets, which resulted to the delays for development and proposal work.
We are involved in efforts to develop new products and associate higher value propositions for existing products as we concentrate in core competence that will allow the business to return to the right direction. In addition to focusing attention on promoting drying furnaces and heating furnaces to battery material and electronic component customers, where growth is expected to continue, we are also promoting the development of new products for automotive customers. Promotions are underway to introduce mixing and stiring machines to pharmaceutical and cosmetic customers, and filtration systems to automotive parts customers. Regarding carbide-tipped circular cutting machines, we focus on developing new materials and on construction material customers.
Static mixer

Roller hearth kiln

Coolant filtration system

Food sterilizer

Rotary kiln

Carbide-tipped circular sawing machine (Thin Cut Master)
Our medium- to long-term business vision
The Engineering Business provides machinery and equipment designed to meet customer applications and needs. We support manufacturing in a variety of different industries. There was favorable growth for heating furnaces for lithium-ion battery and 5G-related business customers. Our prioritized focus has been on technological development here. The Heat Technology Testing Center for this business unit, located in Komaki City, Aichi, receives product inquiries from customers. Based on their requirements, test equipment is selected, and the center performs verification testing, changing the temperature and transportation conditions. This type of development system has been able to support the rapidly changing technological needs of our electronic component customers. We are currently performing higher heating efficiency verification testing on heating furnaces for lithium-ion battery materials. This facility has also provided the heating process work for multi-layer ceramic capacitors used in electronic components, but recently we have been using two heating processes: non-binder and re-oxidation.
Development is underway for a new system that can offer non-binder, heating, and re-oxidation all in one. We have already entered the testing phase for it. Given concerns over material shortages, we are preparing to work with new battery materials. Moving forward, plans call for aggressive research and development with an outside partner with experience in technologies we lack. For mixing and stiring machines, we have completed work on an all-in-one system to allow for a switch to a serial line from what was once batch processing. This will be promoted to customers in the pharmaceutical and cosmetic fields. This uses the ultra-compact static mixer developed last year within a systematic approach. We are also moving forward in finding uses for the fine bubble generators, capable of creating microscopic foams. One of the primary items for filtration systems has been for gear grinding equipment. At present, the primary coolant for gear grinding is oil-based, but we are now promoting a water-soluble coolant filtration system that is more eco-friendly.
Dedicated personnel are critical for continually and stably enabling these systems. Such personnel can conduct onsite inspections at manufacturing locations for different industries. Moving forward, more attention will be given to personnel training. This business has a constant eye on the future. We are working vigorously toward the vision we have developed.
TOPICS
Developed the World's First Gas-Fired Serial Heating Furnace for Lithium-Ion Battery Electrode Materials
Noritake has developed the world's first gas-fired serial heating furnace for lithium-ion battery electrode materials, using a unique ceramic radiant tube burner. Sales began in August of 2020. This product was born from a melding of different technologies. Noritake offered heating furnace technology and Tokyo Gas and Tokyo Gas Engineering Solutions, offered gas-fired heating technology. This new and highly efficient heating equipment can realize up to a 40 percent reduction in energy costs. The lithium-ion battery electrode manufacturing process, for which there has been increasing demand in recent years, requires a heating process that can be stably maintained at high heats of 1,000°C or more. A solution arose when combining technologies for gas-fired high-temperature heating issues from three companies, and we brought that solution to market.