BUSINESS OVERVIEW
Engineering Business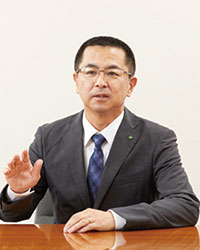 With our core technologies of heating, firing, mixing, filtering, and cutting, we propose engineering equipment to a variety of industries including automotive, electronic components, chemicals, medicine, and foods. We contribute to greater efficiency and energy savings in the manufacturing fields.
---
Main products
We perform development and design of drying furnaces, heating furnaces, mixers, filtration equipment, steel cutting machines, and other equipment that match customers' requests and objectives.
Static Mixer

Food Sterilizer

Roller Hearth Kiln

Rotary Kiln

Coolant Filtration System

Carbide Tipped Circular
Sawing Machine
"Thin Cut Master"

Baking Furnace for High
Temperature Atmosphere

Roll to Roll Far-infrared
Heating System
---
Business overview of fiscal 2018
In fiscal 2018, both net sales and operating profit increased beyond their levels of the previous fiscal year. This was due to growth in sales of our leading products such as drying furnaces and heating furnaces, which benefited from active capital investment in the lithium-ion battery and electronic component sectors. Sales also grew with filtration equipment and carbide-tipped circular sawing machines, resulting in overall increase.
Future outlook and initiatives
As the electric vehicles become more and more common, the demand for lighter-weight bodies and higher-efficiency lithium-ion batteries increases. With these backgrounds, we predict the growing demand of drying and heating furnaces will continue, and are working on to meet the expectations.
We also develop new products that correspond to Internet of things (IoT) and reduce labor on production lines, and aim to meet the needs for automation, continuous operation and remote control.
TOPICS
The Engineering Group promotes information sharing with our customers and business partners with the aim of co-prosperity. We especially dedicate the prevention of industrial accidents. In fiscal 2018, we created and distributed a handbook on occupational safety and health for business partners.