BUSINESS OVERVIEW
Industrial Products Business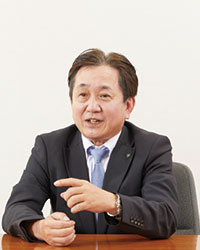 We are one of the largest comprehensive manufacturers of grinding and polishing tools in Japan, using world-class technology to support the materials shaving, polishing, and cutting processes that are indispensable in manufacturing. Our Group includes companies such as Nippon Resibon Corporation and Hiroshima Kenma K.K., which handle offset grinding wheels and other general-purpose grinding wheels, and Noritake Coated Abrasive Co., Ltd., which handles abrasive-coated paper. Through a wide product lineup, we contribute to the development of many industries, including automobiles, steel, bearings, aircraft, shipbuilding, medical care, and semiconductors.
Main products
●Grinding wheels ●Diamond wheels and tools ●CBN wheels ●Coated abrasives ●Dressers ●Grinding/polishing-related products(grinding oil, etc.)
---
TOPICS
Construction of a new plant to produce large grindstones for steel at Suzhou, China
We have manufactured grinding wheels for steel manufacturers at Noritake Abrasives (Suzhou) Co., Ltd., a Chinese manufacturing company. We constructed a new plant and expanded our manufacturing facilities to manufacture large grinding wheels for the market, for which demand is growing worldwide. We will supply the products to the Chinese market as well as to markets in Europe, India, and other areas of the world.
Despite impacts from the COVID-19 pandemic, production lines in the new plant is likely to begin its full-scale operation soon. Through going into the market for large grinding wheels for steel manufacturers, we aim to become the No.1 in the world in this field and accelerate the expansion of our global business.
Grinding wheels for steel manufacturers

NORITAKE ABRASIVES (SUZHOU) CO., LTD.
---
Performance in fiscal 2019
In fiscal 2019, domestic production in the automobile, steel, and bearing industries, the mainstays of the Industrial Products Business, remained sluggish. Overseas, lower automobile sales in North America and Southeast Asia led to lower production. Steel production remained at a high level in China, but declined overseas as a whole. In the semiconductor market, the strong performance that had continued through 2018 slowed, stocks accumulated, and production began to decline. Sales of offset grinding wheels and other general-purpose grinding wheels were sluggish both in Japan and overseas. In addition, COVID-19 spread worldwide in the fourth quarter, causing stagnation in economies and production structures worldwide. As a result, net sales in the Industrial Products Business were 58,579 million yen (a decrease of 7.3% from the previous year) while operating profit was 258 million yen (a decrease of 88.9% from the previous year).
Progress of the Three-year Business Plan
Under the 11th Three-year Business Plan that began in fiscal 2019, we have set "reinforcement of overseas production sites and promotion of overseas market development" and "reconstruction of our domestic sales structure and manufacturing structure" as basic strategies. First, aiming to capture expected future growth in overseas demand, we are working to develop markets by building a global manufacturing and sales structure centered on China, Thailand, North America and other markets. Next, we are working to improve our business efficiency by improving and restructuring our manufacturing and sales bases in Japan and overseas.
We are also focusing efforts on promoting the development of new competitive products and new technologies for growth areas such as electric automobiles and the Internet of Things (IoT), and aim to maintain and improve our market share while opening up new markets. We are promoting technological and product development in our aim to become the top in the world in each of our fields, and are aggressively allocating management resources to advanced fields to enhance our technical services.
Our medium- to long-term business vision
After beginning full-scale manufacture of industrial grinding wheels in 1939, Noritake began manufacturing coated abrasives in 1965 (currently by Noritake Coated Abrasive). We developed the world's first vitrified CBN wheel in 1971, and began manufacturing diamond wheels and tools in 1972. We have also established domestic and overseas sales networks as well as overseas manufacturing bases. We expanded our product lineup in 2014 by welcoming a new company to the Noritake Group, Nippon Resibon, which manufactures and sells offset grinding wheels and other general-purpose grinding wheels in Japan and overseas. As a comprehensive manufacturer of grinding and polishing tools, we have played a part in growth and technological innovation in industries including the automobile, steel, and bearing industries, all of which are indispensable industries in building the foundation of our society and the economy.
With the economies of developed countries such as Japan have now matured, we find ourselves pressed to carry out global economic activities through new means, in response to changes in the global environment and society. The need for grinding tools and peripheral equipments adapted to further technological innovation in different industries is expected to grow. In addition, more difficult grinding technologies will be required for non-ferrous metal materials, metal substitute materials, and the field of next-generation mobility. In these new areas, too, we want to utilize the basic and elemental technologies cultivated by our Group, to contribute to industrial development and the resolution of social issues around the globe.
We will make relationships among Group companies stronger and will work toward improvement of production efficiency, expansion of our sales bases, utilization of mutual technologies, development and promotion of human resources, and other activities to achieve revitalization across the Group. The development of new products will require the abilities of our sales, technology, manufacturing divisions, and collaboration among these.
We will create an organization that skillfully links these by improving the divisions' individual sales, technological, and manufacturing capabilities.
We will place our focus on products that demonstrate the technological and manufacturing superiority of our Group, and will promote selection and focus initiatives by working to improve profitability through improved business efficiency. To achieve these transformations of business, we will further strengthen our human resource development. We will then connect these actions to the medium- to long-term expansion of the Industrial Products Business.