BUSINESS OVERVIEW
Industrial Products Business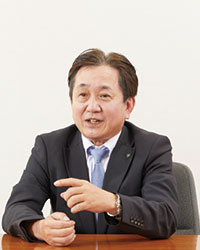 We are one of the largest comprehensive manufacturers of grinding and polishing tools in Japan, using world-class technology to support the materials shaving, polishing, and cutting processes that are indispensable in manufacturing. Our Group includes companies such as Nippon Resibon Corporation and Hiroshima Kenma K.K., which handle offset grinding wheels and other general-purpose grinding wheels, and Noritake Coated Abrasive Co., Ltd., which handles abrasive-coated paper. Through a wide product lineup, we contribute to the development of many industries, including automobiles, steel, bearings, aircraft, shipbuilding, medical care, and semiconductors.
Main products
●Grinding wheels ●Diamond wheels and tools ●CBN wheels ●Coated abrasives ●Dressers ●Grinding/polishing-related products (grinding oil, etc.)
---
Performance in fiscal 2020
The Japanese markets for automobiles, steel, and bearings were significantly affected by the spread of COVID-19. This had a great impact on our business, for these markets are the key focuses of our business. Recovery was beginning to be seen near the end of the fiscal year, but sales were lower throughout as a result. Although we have witnessed resurging production because of the restart of Chinese economy and recovering demand as well as a gradual recovery in Europe and North America, together with Southeast Asia, our sales have been dramatically low at overseas throughout the fiscal year.
There were decreases both within Japan and overseas in general purpose grindstones, including cut-off wheels. These results ended with net sales of 50.094 billion yen for our Industrial Products Business, for a YoY decrease of 14.5 percent, with an operating loss of 1.098 billion yen.
Progress of the Three-year Business Plan
In addition to the significant production adjustments made by our customers and the changing market conditions in FY2020, we also call into account the medium- and long-term market trend to take measures to improve our profitability. We are accelerating our improvement of profitability through taking effective measures, taking into account both income and expenditures through manufacturing to sales of each product. We continue to reassess locations within Japan, including those of our group companies. In doing so, we have reviewed our business through examining the unique characteristics needed for both general purpose products and for custom made products as part of our efforts to increase profitability. On the other hand, our partially remote operation of manufacturing lines in China and Thailand has strengthened our overseas manufacturing, which improves our global business systems.
Vitrified-bonded Wheel for Gear Grinding "Gear Ace"

Vit-CBN Wheel "MEGA-LIFE WHEEL"

Diamond belt "Alta"

Disc grinding Wheel "Flatdy"

Metal Wheel for Super-Hard Main Groove Grinding
"Dress-less Metal (MDL)"

Offset Wheels
Our medium- to long-term business vision
In order to correspond to the next generation, we continue our efforts to strengthen our business foundations and maximize the synergy with each of the group company. Furthermore, the acquisition of opportunities from new and expanding markets is considered to be most important for mid-term business expansion.
In practical terms, customers are increasingly demanding lower CO2 emissions in the manufacturing process in response to government policy to achieve a carbon neutral status by 2050. We are therefore focused on developing products that can be more easily produced, require less energy, and can lower CO2 emissions at the same time.
In recent years, the interest of the automotive industry has rapidly shifted to electric vehicles. This shift over electric vehicles is not only limited to the change from fuel to batteries. The lighter vehicles improve fuel efficiency, and the greater precision in drive chain parts leads to lower levels of energy loss, which combined will lead to reductions in CO2. Our focus until now has been on providing the grinding and polishing tools used for internal combustion engines. However, we are keeping pace with the transition to electric vehicles and will provide new products that meet the unique needs for the parts our customers will be manufacturing.
One example: when we combine the different types of grindstones used in multiple grinding and polishing processes into one, we can develop a grindstone that increases drive chain part precision processing and can reduce energy loss. Use of such a grindstone can also shorten the working process and can greatly increase production efficiencies. Given our long history of developing and manufacturing different types of grindstones, and our deep store of fundamental and elemental technical expertise, we are confident that this development is feasible.
Our focus until now has been on the grinding and polishing technologies for metal materials, including those used in automobiles, steel, and bearings. Moving forward, we are advancing prioritized development for the semiconductor and telecommunication fields, where market is expected to grow. We are creating an environment that improves individual motivation and maximizes employee abilities, which in turn can lead to further growth. Noritake will take maximum advantage and inherit our expertise and experience that accumulated over more than 80 years to train personnel for the next generation. At the same time, we will cultivate human resources who can play active roles in the next generation.
TOPICS
Expanding Production Overseas: New Facilities in China and Thailand
The opening of the new production line for NORITAKE ABRASIVES CO., LTD., in Suzhou, China, was delayed due to the spread of COVID-19, but is now scheduled to start its operation in July. This line will manufacture larger grindstones for the steel market, reflecting increasing global demand. This new line is planned to supply customers not only in China, but in Europe, North America, and India as well. We have also increased the number of manufacturing lines for ultrafine (vitrified CBN) grinding tools at NORITAKE SA CO., LTD. in Thailand. Consistent production began onsite in May on 2021. This has enabled through production for vitrified CBN products at three locations in Japan, North America, and Thailand. We will continue to strengthen onsite service systems to serve customers who are growing production world-wide.