BUSINESS OVERVIEW
Industrial Products Business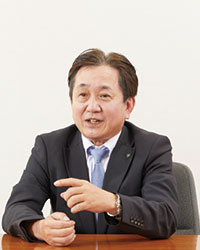 The process of grinding and polishing materials are necessary in manufacturing items ranging from aircraft, automobiles to syringes. By providing the tools used in these processes, we provide behind-the-scenes support for manufacturing industries.
---
Main products
Polishing grinders, diamond/CBN tools, coated abrasive, etc. We boast best-in-the-world performance in processing precision, efficiency, etc.
Vitrified Wheel for Gear
Grinding "Gear Ace"

Disc Grinding Wheel
"Flatdy"

Vitrified CBN Wheel
"Mega-Life Wheel"

Vitrified CBN Wheel
"Seamless Centerless Wheel"

Super-Hard Main Groove
Grinding Metal Wheel
"MDL Wheel"

Poreless Vitrified Diamond
PCD Grinding Wheel
Smooth Fine

Diamond Coated abrasive
Belt "Alta"

Cut-Off Wheel
---
Business overview of fiscal 2018
In fiscal 2018, both net sales and operating profit increased beyond their levels of the previous fiscal year. This was due to robust production in the automobile, steel, and bearing industries, which are our main domestic customers. Despite slowness in sales toward automobiles in North America, overseas too, showed strong sales with steel and automobiles in China and Southeast Asia, respectively, and resulted in growth overall.
Future outlook and initiatives
We will construct a global production and sales structure centered on regions including China, Thailand, and North America, and will develop growing overseas markets. At the same time, in Japan we will engage in development of new products in growing sectors such as electric vehicles and the IoT, and will work to maintain and grow our share.
We will also engage in reorganization that includes Group companies, and work to secure profitability through improvements in business efficiency.
TOPICS
Firing process is one of the steps to manufacture grinding wheels, which is a type of porcelain. Our Industrial Products Group has long worked to reduce CO2 emissions through improving kiln packing and in equipment. We have met the target every year since it was set in fiscal 2016 (annual improvement of 1% or more per unit of production).