BUSINESS OVERVIEW
Tabletop Business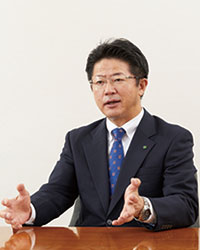 For over 100 years, Noritake tableware has been loved around the world. We offer a wide lineup of beautiful and easy-to-use tableware for daily use at home and for gifts, as well as for commercial use in hotels, restaurants, in-flight service, and more. By providing products infused with impeccable quality and taste, we enrich our customers' lives.
Main products
●Porcelain tableware ●Other tableware-related products ●Decorations/works of art, etc.
---
Performance in fiscal 2020
The domestic market has been impacted by the spread of COVID-19. Despite increases in online sales, sales for the airline, department store, hotel, and restaurant industries decreased dramatically. Despite increases in online sales for the overseas market, overseas sales were lower because of impacts from large-scale reseller shutdowns in the United States. Sales for hotel, restaurant, and airline customers were lower as well, which led to overall decreases world-wide.
As a result, net sales for Tabletop Business 5.44 billion yen, a 27.6 percent YoY decrease, with a 1.314 billion yen operating loss.
Progress of the Three-year Business Plan
For the 11th Three-year Business Plan, the Tabletop Business has been involved in efforts to revitalize the business and identify systems that would maintain profitability even as the market shrinks.
The strategy for revitalizing the business needed to review in light of COVID-19 in FY2020, and we focused to revise our strategies.
Domestically, we reviewed sales and distribution, and in addition to promoting higher efficiencies through Concentration in Core Competence, we also set about identifying new markets and sales routes. Three existing Noritake stores were closed. On the other hand, in addition to opening a new style of store, Noritake Square Plus, in Nagoya's Sakae Mitsukoshi, we also ran pop-up sales in locations like outlet malls. Ion mall is to be opened at a new location right next to our company in the fall of 2021, and we expect to attract new foot traffic. In response, we are renovating the Noritake Square Nagoya store. Updates were also made to the official Noritake online store, where access numbers have been increasing, improving the website's ease-of-use.
Regarding overseas market, more and more retail sales are done online in the United States. We focus to strengthen online sales, increase profit and improve profitability. We have also been revising our sales systems for China, India, and Oceania, working also to improve profitability. As a result of the efforts, there has been a particular growth in online sales, especially in Australia. We are strengthening our relationship with a powerful and comprehensive agency in India, and promoting more publicity there.
Yoshino

Rosa Rossa

Homage Collection

Orige

COLORTEX

Maison Collection (quilted pink)
Our medium- to long-term business vision
Tableware is what our business group was founded on. We have been focusing on transitioning systems to one that can ensure profit, developing products that meet more casual needs in Japan and the United States. The economy, however, has been hit with stagnation after the FY2019 explosions in Sri Lanka and the spread of COVID-19 in FY2020. We have therefore been forced to make changes to the plans announced in the three-year business plan. Of particular concern has been the massive hits to the hotel, restaurant, bridal, and airline industries, where our major customers exist. Some course revisions are needed for the directions we need to aim for.
Conversely, online sales have been doing well everywhere.
Moving forward, although even as more and more countries can proceed with vaccinations, the economic and lifestyle changes that COVID-19 precipitated, such as restrictions on movement, travel, eating-out and shifts to online sales for small retailers, is expected to remain the same. Our business is reviewing the brand re-genesis called for in the three-year business plan, and believes we need to accelerate necessary strategies now. Regarding brick-and-mortar shops, we will accelerate to shift our business from department stores to outlet malls. We will also correspond to online sales media, which will help us propose and strengthen appeals of Noritake brand to a wider circle of customers. We can also take advantage of our accumulated expertise in working with high-end customers like hotels and restaurants and are working to develop new business spaces for the dining sphere.
We are certain that these efforts will help to shine a light on the prestige and quality of Noritake formal ware for new customers in online and new business model environments. Please look forward to the changing Noritake.
TOPICS
Website Updates for the Official Noritake Tableware Online Shop
We relaunched a new version of the official Noritake online store on March 25, 2021. The new normal precipitated by COVID-19 has increased visitors to our online store, and we have improved the website's ease-of-use with more shopping features for customers using smartphones and mobile devices to visit. We have also added new content, including a concierge service where dining professionals introduce selected tableware, providing more comfortable living spaces that go beyond the dining table.