BUSINESS OVERVIEW
Tabletop Business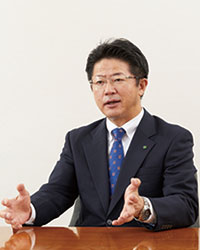 For over 100 years, Noritake tableware has been loved around the world. By providing products infused with impeccable quality and taste, we enrich our customers' lives.
---
Main products
We offer a lineup of beautiful and easy-to-use tableware for daily use at home and as gifts, as well as for commercial use in hotels, restaurants, in-flight service, and more.
Rosa Rossa

Coco Fleur

Conjunto

ColorTex

Homage Collection

Marc Newson Collection

Maison Collection
(Quilting Pink)

Rochelle Gold
---
Business overview of fiscal 2018
Sales fiscal 2018 declined from the previous fiscal year, but we achieved an improvement in operating loss. Domestically, while sales to department stores declined year-on-year, commercial sales to hotels and restaurants increased, resulting in sales on par with the previous year. Overseas, sales in the U.S. declined considerably due to slow sales to our main customers. In Europe and Asia, too, sales to airlines declined, leading to an overall year-on-year decline overseas. As a result, total domestic and overseas sales declined.
Future outlook and initiatives
In the domestic market, demand is expected to grow as the number of foreign visitors to Japan increases. We aim to expand sales of commercial tableware, targeting the hotel and restaurant markets. We will also reconstruct our distribution and retail channels, with a particular focus on e-commerce.
Looking at overseas markets, in the U.S. we will move quickly to address the expanding ratio of online sales. We will also establish sales structures in markets which are expected to grow, such as China and India.
TOPICS
Red pigments for ceramics typically contain hazardous substances. While these do not leach when properly painted on ceramics, out of consideration for the environment and people, our company uses pigments of our own development that do not contain hazardous substances.