WHAT IS NORITAKE?
Strengths Cultivated through History
Ceramic technologies drive expansion into four segments
The Noritake Group is operating in four segments by applying the technologies we cultivated through manufacturing porcelain and developing various ceramic technologies.
The Industrial Products Group supports industries with grinding wheels and diamond tools, the Ceramics & Materials Group supplies ceramic raw materials to various manufacturing industries, the Engineering Group develops and proposes manufacturing equipment and technology, and the Tabletop Group produces lavish tableware.
In each field, we create new value for customers and society.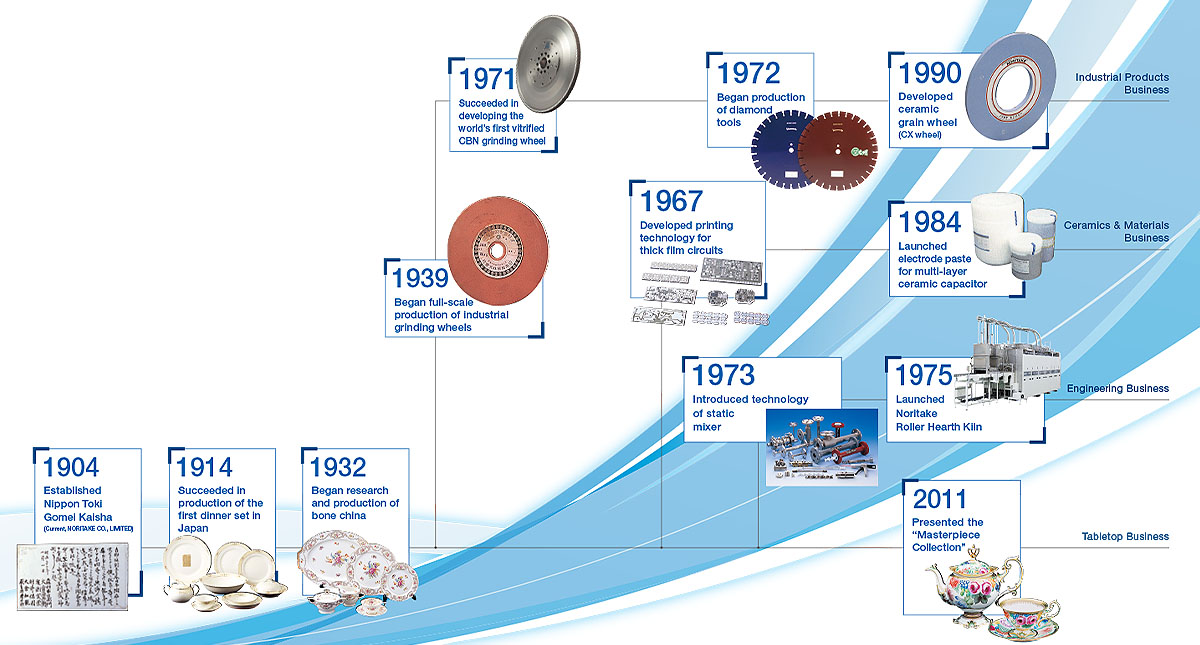 ---
1904
Established NIPPON TOKI GOMEI KAISHA
1907
Began production of grinding wheels for tableware
1909
Proclaimed the Noritake Creed
1914
Succeeded in production of the first dinner set in Japan
1917
Reorganized into NIPPON TOKI CO., LTD.
1918
Began production of decalcomania paper for tableware
1932
Began research and production of bone china
1939
Began full-scale production of industrial grinding wheels
1947
Established NORITAKE CO., INC. in the USA
1958
Established NORITAKE (AUSTRALIA) PTY LTD.
1960
Began operation of Kamori Plant (production of resinoid grinding wheels)
1964
Began operation of Miyoshi Plant (production of tableware)
1967
ISE ELECTRONICS CORPORATION (currently NORITAKE ITRON CORPORATION) developed vacuum fluorescent displays
Developed printing technology for thick film circuits
1971
Succeeded in developing the world's first vitrified CBN grinding wheel
1972
Began production of diamond tools
Established current NORITAKE LANKA PORCELAIN (PVT) LIMITED
1973
Introduced technology for static mixer
1975
Launched the Noritake Roller Hearth Kiln
1981
NIPPON TOKI CO., LTD. was renamed to NORITAKE CO., LIMITED
1983
Developed far-infrared ceramic heaters
1984
Launched electrode paste for multi-layer ceramic capacitor
1987
Established NORITAKE EUROPA GMBH in Germany
1988
Established NORITAKE TAIPEI CO., LTD. in Taiwan
1990
Developed Ceramic Grain CX Wheel
1994
Began supply of Roller Hearth Kilns for Li-ion batteries
1995
Established current NORITAKE SCG PLASTER CO., LTD. in Thailand
Established PT. NORITAKE INDONESIA
1997
Established ITRON (U.K.) LIMITED
2001
Opened Noritake Garden
2004
100th anniversary of foundation
Established NORITAKE SHANGHAI TRADING CO., LTD. in China
2011
Presented the "Masterpiece Collection"
2012
Established NORITAKE SA (THAILAND) CO., LTD.
Opened the tableware shop "Noritake Ginza" in Tokyo
Made KCM CORPORATION a wholly-owned subsidiary
2013
Began operation NORITAKE ABRASIVES (SUZHOU) CO., LTD. in China
2014
Main production site moved to Miyoshi Plant
Made NIPPON RESIBON CORPORATION a consolidated subsidiary
2018
Made NIHON FUREKI SANGYO CO., LTD. a wholly-owned subsidiary