TOGETHER WITH COMMUNITIES
Social contribution activities
ESG Initiatives
Corporate Governance

Together with Communities

Harmony with the Environment
Noritake Garden
Part of the Noritake Company headquarters site is open to the public as "Noritake Garden." This garden, planted with more than 6,000 trees over approximately 34,000 square meters, is a complex facility that was established at the founding site based on feelings of gratitude for local people and the desire to protect the environment. It is popular as an industrial tourist facility and a place of relaxation in the city, and since its opening in 2001, it has been visited by a large number of people.
Also, we have signed an agreement with Nagoya City to act as a temporary evacuation site for people who have difficulty returning home in the event of a large-scale disaster. In this way the facility provides peace of mind to local residents.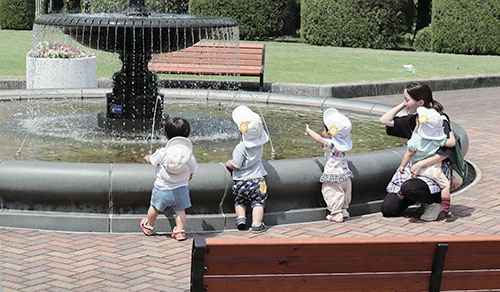 Support for international students
To support students from overseas, we participate in the "International Student Acceptance Program for Employee Dormitories" organized by the Foundation of Corporate Friendship Network for Foreign Students and provide accommodation for international students attending universities and graduate schools. This provides low cost accommodation for international students, and for the employees who live in the employee dormitories, it serves as an opportunity to communicate with foreigners.
Regional contribution at Noritake Sri Lanka
Noritake established Noritake Sri Lanka in 1972 as a tableware manufacturer in Sri Lanka. Since then, the company has continued to interact with the community in various ways, including making donations to hospitals and schools, and carrying out environmental activities.
In fiscal 2020, Noritake was selected from more than 600 companies in 19 countries for the Asia Responsible Enterprise Award in the Green Leadership category at NGO Enterprise Asia's 6th International CSR & Sustainability Summit 2020.
This award recognizes the many years of efforts that Noritake Sri Lanka has made toward activities such as tree planting.