TOGETHER WITH COMMUNITIES
Quality initiatives
Our ESG
Corporate Governance

Together with Communities

Harmony with the Environment
Activities to enhance manufacturing
Noritake is a manufacturing company that was born from the passionate desires of the founders to "make porcelain with exquisite craftmanship and impeccable whiteness." Based on this spirit, the Noritake Manufacturing Committee was established in 2011 to improve the quality of our products and services.
The Noritake Manufacturing Committee has established the concept of "Customer First, Safety First and Quality First" and promotes activities based on the recognition that achieving these three "Firsts" is important for continuing to contribute to society through our business.
In 2011, we started basic development activities under the "Manufacturing 3-1 (M3-1) Activities" started by the manufacturing department. To ensure stable production, we have implemented a system that is the foundation for safety, 2S, and standardization.
In addition, we have integrated "quality activities" for the design and engineering divisions and we are evolving them into activities that promote manufacturing and technology together. Since 2016, as basic enhancement activities, we have expanded our activities to develop management standards and systems that control the five major missions of our production sites: Safety, Quality, Production, Cost, and Human Resources. We have expanded our manufacturing activities for engineering, development, sales, and management as "S3-1 activities" and are currently promoting activities based on the two pillars of "M3-1 activities" and "S3-1 activities."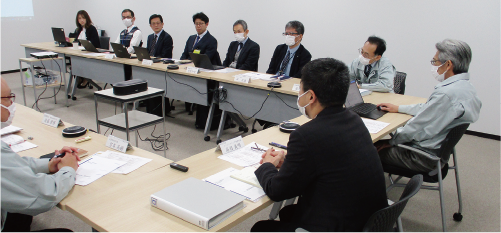 M3-1 activity (manufacturing and technology)
We promote M3-1 activities in the manufacturing and engineering departments based on two pillars: Basic enhancement activities and quality activities.
Basic enhancement activities
In our basic enhancement activities, in order to more reliably control Quality (Q), Cost (C), and Delivery (D), we have created a system that operates according to the management standards and roles by hierarchy for the five major missions of our production sites. This system is shown as a template. The Noritake Group's 13 plants hold "Genchi Genbutsu (real location, real thing) meetings" where the activities for the five missions are confirmed at the plant site. At these meetings, participants have discussions and promote good practices across departments.
Quality activities
We promote "Good Quality activities" and "Production preparation activities" in order to establish systems that can promptly and reliably provide the "Good Quality" that customers demand.
Good quality activities:
We share information about how we dealt with complaints and useful information about countermeasures for defects at manufacturing processes. We strive for corrections and improvements while conducting "Obeya" activities.
* Obeya activities: Top managers such as plant managers, and stakeholders from manufacturing, production technology, quality assurance, and product development, etc. hold cross-departmental meetings to carry out practical activities with a sense of speed through factor analysis and discussion of countermeasures.
Production preparation activities:
Common Noritake Group standards are defined for items to be performed and items to be confirmed in each step from product planning to mass production. We have been carrying out audits (Quality Audits) since FY2016 to confirm the understanding of purpose, operational status, and effectiveness related to these standards. We are continuously working to respond to the issues that have emerged through the audits and reduce complaints.
S3-1 activities (engineering, development, sales and management)
Noritake manufacturing activities are not limited to our plants. In order for us to delight our customers, it is essential that the departments directly involve in the business, such as sales and engineering, and play an active role. The functions and efficiency of the management and development departments that support these business departments are also important. Staff departments work on Noritake manufacturing activities through our S3-1 activities. S represents the S of service, and 3-1 represents the three "Firsts": "Customer First, Quality First and Trust First."
In our S3-1 activities, we promote the participation of all employees and improved awareness based on the policy of "I play the leading role" and "Customers are the final part of the process." While promoting small group activities with the participation of all employees, we hold case study presentations for each division and work to make the activities stimulating. While steadily advancing the standardization of our operations, we are taking one step forward to promote improvement activities based on the concept of overall optimization. The aim is to realize visible results such as customer satisfaction, operational efficiency improvement, and taking paid leave.
In fiscal 2019, we will make QCD improvements based on standard operation, corrections, and improvements, review operations working across divisions and sections, and strengthen cooperation among related divisions and departments.