HARMONY WITH THE ENVIRONMENT
Reduce environmental burden
ESG Initiatives
Corporate Governance

Together with Communities

Harmony with the Environment
Overall picture of environmental burden (Scope 3)
We are working to reduce environmental burden more effectively by monitoring the overall environmental burden of the entire product life cycle from raw material procurement to disposal after product use.
Noritake calculates greenhouse gas emissions based on the international standard Scope 3 and uses them as an activity indicator.
* Calculation method
・Calculated in accordance with the Ministry of the Environment and Ministry of Economy, Trade and Industry's
"Basic Guidelines on Accounting for Greenhouse Gas Emissions Throughout the Supply Chain Ver 2.0."
・Categories 9, 10, 13, and 14 out of the 15 categories of Scope 3 were excluded from the calculation because they are not applicable.
CO2 emissions throughout the supply chain
Total of Scope 1 to 351.2million tons
Scope 1 : Direct company emissions
Scope 2 : Indirect emissions associated with energy use (Use of purchased electricity and heat)
Scope 3 : Other indirect emissions (categories 1 to 8, 11, 12 and 15)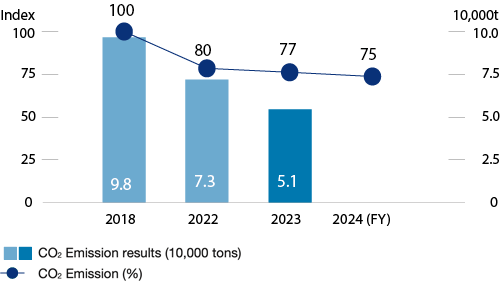 Pollution measures
Pollution control activities
In order to reduce the risk of environmental pollution caused by chemical substances, it is important to reduce the use of substances that adversely affect the environment as much as possible and to prevent dispersal and leakage through proper storage and handling.
In the 11th Three-Year Environmental Action Plan, we aimed to reduce the impact of harmful chemicals on the environment, strengthened the management of chemical substances, and promoted the reduction of chemical substances used.
Chemical substance management
We conduct chemical substance management that meets environmental-related laws for the entire Noritake Group. Chemical substance management consists of two parts: Screening and approval rules to control new use of harmful chemical substances, and monitoring the amount of chemical substances used and transferred. In this way, we are visualizing the conditions of chemical substances used and working to reduce the use and emission of hazardous substances.
We also issue and operate the "Chemical Contamination Prevention Control Standard" that uniquely defines the structural standards and inspection standards of related facilities for the storage and use of harmful chemical substances, and we are striving to prevent the dispersal and leakage of chemical substances.
Countermeasures for global warming
Global warming countermeasure activities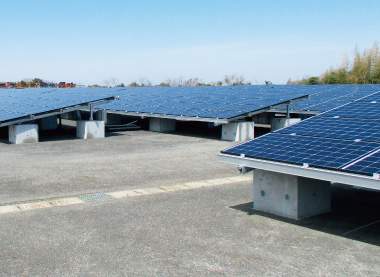 The Noritake Group is working to reduce greenhouse gases that cause global warming. In the 11th Three-Year Environmental Action Plan, we are working to reduce greenhouse gas emissions per production volume by 1% or more compared to the previous year. In order to reduce greenhouse gases, we are actively promoting the reduction of energy consumption by means including increased productivity and adoption of energy-saving facilities.
We are also taking measures to counter global warming by expanding the use of renewable energy. We operate solar power generation facilities at six domestic business sites, making effective use of their premises in reducing annual CO2 emissions by 1,500 tons or more.
Global Warming Countermeasures Dedicated Committee initiatives
In order to share information necessary for global warming countermeasures and work on activities with a company-wide policy, we have established a Global Warming Countermeasures Dedicated Committee in which "energy management plan promotion staff" and "energy management managers" from the main plants participate. This Global Warming Countermeasures Dedicated Committee confirms the progress of company-wide greenhouse gas reduction activities and considers ways to promote preventing global warming.
In addition, in order to spread our advanced activities and effective means to prevent global warming, we share the information within the Group. We also promote company-wide activities such as taking a local-tour at the sites where the activity is being well performed, and create guidebook on how we corresponded to each environmental cases. The main plants are taking initiatives on working on this matter.
Greenhouse gas emissions results
During fiscal 2020, the second year of the 11th Three-Year Environmental Action Plan, our continuous efforts to improve quality and increase productivity linked with manufacturing enhancement activities resulted in a reduction in CO2 emissions by approximately 1%. Yet insufficient reductions in fixed energy use due to production fluctuations meant that we were not able to meet our planned goal of a 1% or greater year-on-year reduction in CO2 emissions per production volume.
Domestic greenhouse gas emissions results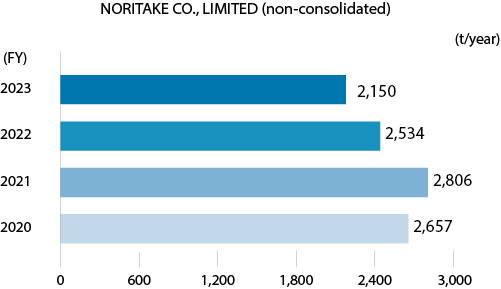 CO2 emissions ratio by energy type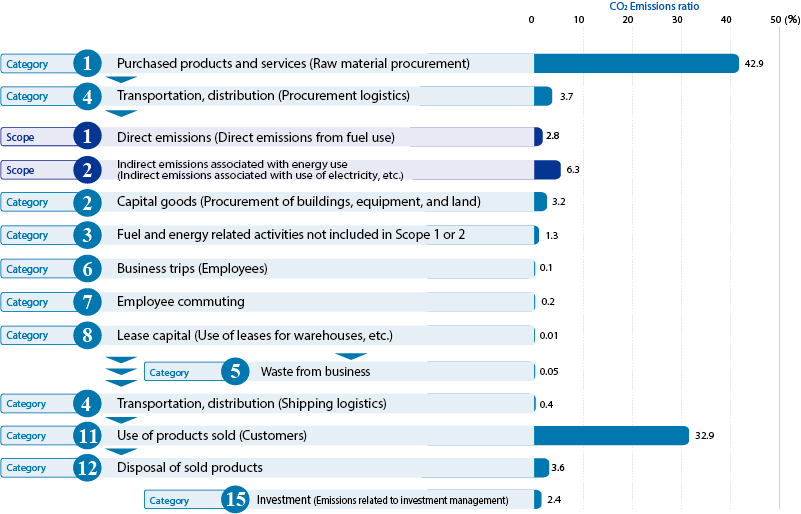 In addition, the company continuously monitors the amount of logistics transport in order to achieve efficient logistics. In fiscal 2020, our CO2 emissions were 26.57 million tons with 14.93 million ton-kilometers.
CO2 emissions from logistics and transport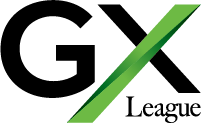 Resource recycling measures
Resource recycling activities
We understand that doing our utmost to reduce the generation of waste in our business activities is critical to making effective use of limited resources. At the Noritake Group, we undertake to reduce waste in conjunction with our manufacturing enhancement activities and quality improvement.
In our 11th Three-Year Environmental Action Plan, we have been working to reduce the amount of waste sent to landfill per production volume by 2% or more compared to the previous fiscal year in order to promote resource recycling. In addition, as a main initiative, we aim for a recycling rate of over 85% in order to promote the recycling of waste that was previously sent to landfill.
Noritake Recycling Center initiatives
Industrial grinding wheels, Noritake's main business, are consumable products, and are disposed of in landfills as industrial waste after use. This has been a major issue in terms of the effective use of resources.
In order to recycle the industrial grinding wheels that we sell, the Noritake Recycling Center collects about 500 tons of used vitrified grindstones annually.
The collected grindstones are crushed, classified, and then reborn as products such as abrasives and heat-resistant materials.
We are also actively developing applications so that used grindstones can be used effectively.
Recycling process of used industrial grinding wheels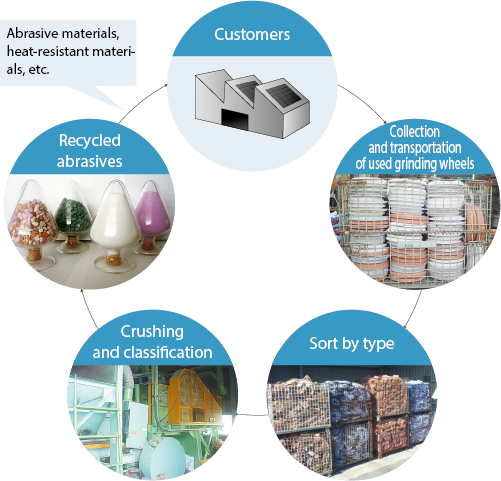 Waste emission result
In fiscal 2020, the second year of our 11th Three-Year Environmental Action Plan, we continued to promote the reduction of waste by reducing the defect rate, and the recycling of resources by reviewing disposal methods. We succeeded in reducing the amount of waste sent to landfill per production volume by approximately 24%. We reduced the volume of waste sent to landfill per production volume by 20% compared to the previous year, accomplishing our plan.
By promoting resource recycling, we were also able to recycle 88% of generated waste.
Domestic landfill disposal volume results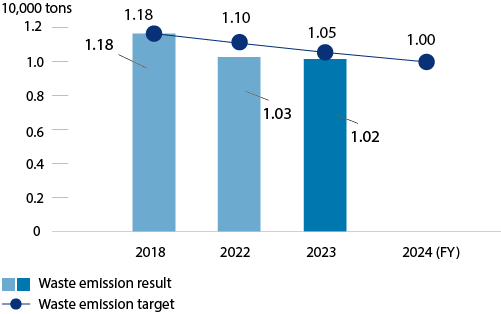 Landfill disposal volume rate by waste type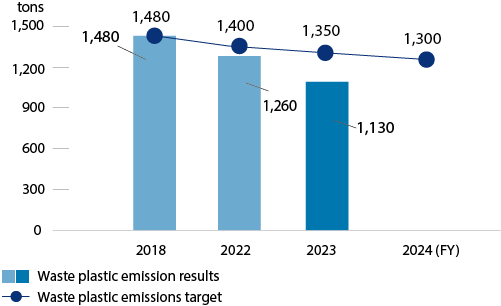 Trend in recycling rate