HARMONY WITH THE ENVIRONMENT
Environmental protection initiatives
ESG Initiatives
Corporate Governance

Together with Communities

Harmony with the Environment
Initiative for biodiversity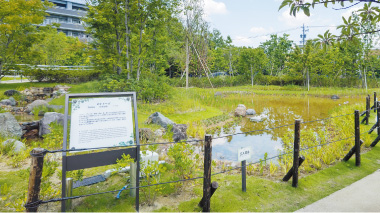 In order to realize the "sustainable society" that the Noritake Group is aiming for, we are promoting initiative for biodiversity aimed at preserving nature and ecosystems. We are promoting the greening activity of our business sites, and the "Noritake Garden" adjacent to our headquarters provides an environment where wild birds and insects can flourish.
Water resource conservation
In order to conserve important water resources, the Noritake Group strives to prevent pollution of rivers and other areas managing wastewater from its production processes appropriately. In factories that generate a large amount of waste liquid, all wastewater from the process is collected so that they do not spread into rivers and other areas, and some process wastewater such as washing water is recycled.