CORPORATE GOVERNANCE
Message from the Director (Outside)
Our ESG
Corporate Governance

Together with Communities

Harmony with the Environment
In order to achieve mid and long term growth, I hope to contribute to rational business judgement by constantly watching the business from the perspective of an outsider and a stakeholder.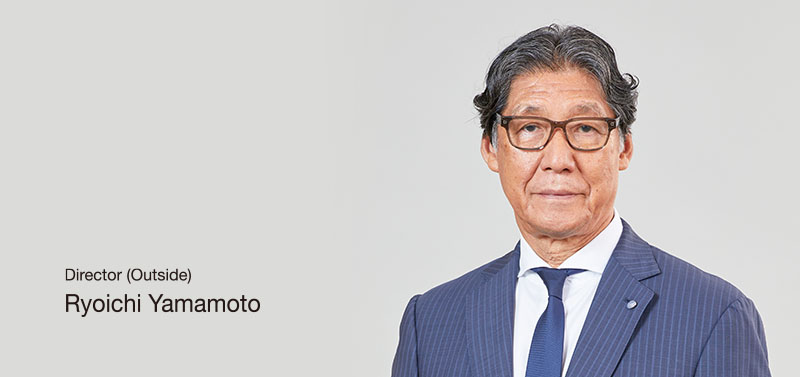 The impact of the spread of COVID-19
It is no longer simply a medical problem. The COVID-19 situation has come to have a major impact on politics and the economy, on society, and on people's values. It is shaking the presuppositions of globalism, and influencing the state of nationhood and individual's lives. Even when the pandemic is over, it is anticipated that we will not return to the same society we had lived before.
Companies around the world are forced to respond to the situation where the future cannot be predicted, and the Noritake Group is no exception. Since the automotive, steel and bearing industries that have suffered prominently are the core customers of our Industrial Products Business, we can predict a severe environment to continue for the time being. Moreover, conventional business models are likely to become unworkable in industries like transport and tourism. On the other hand, we can expect to see new trends emerge, such as intensified telecommunication-related needs. The ability of how we can get the picture of these changes and incorporate them into our businesses will be extremely crucial.
What are the most crucial challenges the Noritake Group is facing at the moment?
The first is to incorporate the market changes into our 11th Three-year business Plan, and also to accelerate the actions toward new growth areas. In order to survive the unprecedented environment surrounding us, it is surely essential for us to transcend conventional wisdom and radically strengthen our growth strategy and corporate character.
In our previous Three-year Business Plan, we undertook to strengthen competitiveness and explore new markets in each business operation. As a result, Ceramics & Material Business and Engineering Business have strengthened their basis by increasing their profitability. These two businesses have grown into new two pillars of Noritake, while having Industrial Products Business as the main pillar. We should make a great stride forward from this foundation.
Since each business division within the Noritake Group is highly specialized, they tend to be independent. I think it will become more crucial than ever for us to work on strengthening our corporate character from a companywide perspective.
What is your role as a Director (Outside)?
I question myself about what I am capable of doing as a Director (Outside) amid today's circumstances. My most important role is to take a companywide view in aiming for mid and long term growth of the Noritake Group, while always keeping an outside perspective as I check whether management decisions are fair from the standpoint of our stakeholders, then thoroughly stating my views at Board of Directors meetings. I would also like to take on the role running the PDCA cycles in our Three-year Business Plan by forthrightly stating issues that may be difficult for an Internal Director to notice or to mention.
The establishment of Nomination & Compensation Committee
Through the deliberations by the Nomination & Compensation Committee which was established last year, I have become intensely aware of how crucial it is to develop managerial talents. I believe the activated discussions among the Board of Directors will serve as a venue for development of managerial human resources.I will keep working to enhance corporate governance in the Noritake Group by heightening the effectiveness of the Board of Directors and Nomination & Compensation Committee.
The Noritake Group is a highly well-balanced company with a history over 100 years. I look forward to its challenge of breaking down barriers and achieving major growth.
What is you impression of the Noritake Group?
For many years before being assigned as a Director (Outside), the image I had of Noritake was that the company is primarily based on ceramic tableware. But upon being appointed, I realized that the Group has actively spread its business to areas like grinding wheels and engineering, and that it contributes to manufacturing worldwide with its ceramics technology as its core.
The Noritake Group has achieved current businesses after going through many pivotal moments throughout its history which spans over a century, and now is another turning point. Like the automotive industry, with which I have long been involved and which is also facing a turning point of its own, the Noritake Group, too, is heading into new development as it enters their time of transformation.
What are the strengths of the Noritake Group, and the challenges it is facing?
They were the first company in Japan to manufacture genuine ceramic tableware, and offered it overseas from the time of their founding. But in addition to that brave spirit at the start, they also continued over the next century to work assiduously on developing and expanding their business operations. I believe that the Noritake Group is a well-balanced company, conducting businesses aggressively while holding a defense when it is in need. In order to continue growing, it will be essential to elevate the awareness of each and every one of the employees. It is crucial to take the long-term growth strategy laid by the company's Three-year Business Plan as their personal matter, to think what each person can do to stride Noritake to its next stage of development, and to act in that direction. I believe that concentrating their efforts and striving forward together will lead to further corporate growth.
It is commonly said how it is generally difficult for companies with long histories to depart from their successful experiences of the past and to summon the strength to take new challenges. The current market demands the world to break down the barriers and to deploy business operations speedily. I have high hopes that by taking on these challenges courageously, the Noritake Group can achieve a greater growth than today.
What is the most crucial aspect of organizational transformation?
While there are a number of approaches for corporate transformation, my experience to date informs me of four necessary perspectives in changing a company. The first is organizational structure. The second is systems and frameworks. The third is company climate and culture. And the fourth is people.
In the current Three-year Business Plan, the Noritake Group stresses three elements: (1) Increasing growth potential and profitability, (2) Accelerating investment (M&A, facilities, development) and (3) Achieving ESGs. Of these, the most crucial is investment in growth areas and development. Since it is people who engender the innovation, it is crucial to focus efforts on improving employee awareness together while carrying out organizational and structural reform and proactive investment.
The leader of a company I used to work for used to say, "Once you're standing in the batter's box, swing your bat without worrying about your batting average. The worst thing you can do is to get called out on strikes." He was expressing how important it is to be a doer instead of a bystander, putting ideas out, taking action and trying new things. Now, more than ever, I want the Noritake Group employees to swing the bat with all they've got.
Also, now that we face the worldwide spread of COVID-19 infections, a new variety of new efforts we must undertake in the ESG domain have come in to view. As we envision a picture of our future society, the new forms of business and the direction of the organization will be determined when we consider how to get there, step by step.
What role do you hope to fulfill as a Director (Outside)?
In order to function most effectively in furthering the development of the Noritake Group as one of its Directors (Outside), I want to do my utmost to state meaningful opinions through actual observations on the ground.
As a Director (Outside), I hope to fulfill my role by taking the perspectives of shareholders, suppliers and other stakeholders, as well as society, as we engage generously in deliberations based on an understanding of the actual state of business operations and of goals shared with Internal Directors.