CORPORATE GOVERNANCE
Message from the Director (Outside)
Our ESG
Corporate Governance

Together with Communities

Harmony with the Environment
I believe it is important to create systems and mechanisms, constantly check the efficacy of governance, and continue making improvements.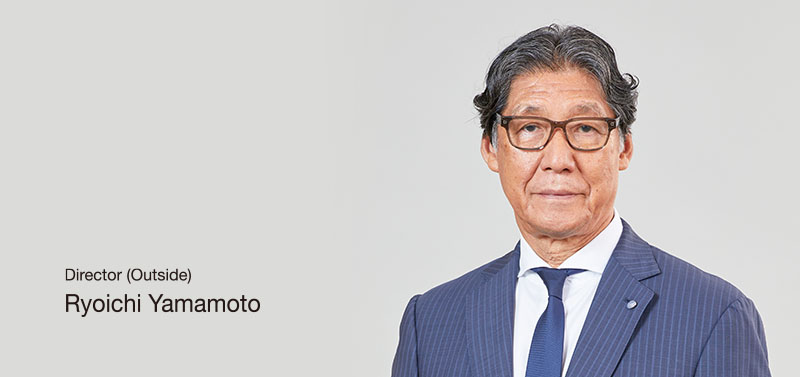 We asked Director (Outside) Tetsuo Komori about his thoughts and suggestions concerning corporate governance in the Noritake Group.
What role do you play as an outside Director?
First, I strive to attend all meetings of the Board of Directors and state open opinions concerning matters for deliberation. I'm asked to provide opinions on a wide range of matters that span formulation of management planning, status of progress, reviews of results, as well as corporate governance, compliance, and more. We set up small-group meetings bringing in the President, Directors (Outside), Audit & Supervisory Board Members (Outside), and other persons as necessary, and engage in discussions. At present there is no committee for nomination and compensation, but there are opportunities for Directors (Outside), including me, and for Audit & Supervisory Board Members (Outside) to express opinions concerning compensation for directors, officer-related personnel matters.
What I emphasize at that time is whether matters contribute to the sustainable development of our Group and whether rationality and fairness have been secured from an external perspective. It is my hope that the statements I make from an external standpoint will add a different perspective, and lead to more active discussions.
I feel that officers and employees receive and respond to my statements with great sincerity.
What impression do you have about the Noritake Group?
I have opportunities to travel to production sites and interact with employees. What I feel at those times is that this is a company that holds to principles backed by history. The company was founded over a hundred years ago by ambitious people with a desire to contribute to national prosperity through business, and since then, has undergone changes in form in its development to the present. It seems to me that this has been made possible by the founding spirit and the Corporate Motto serving as a sturdy pillar deeply rooted in the company. Another factor is internationalism. Engaging in exports from the time of its founding, the company is characterized by taking the world as its field in terms of both sites and human resources.
Recent years, a large number of scandals and improprieties have occured in many companies, and great importance is now placed on where companies stand. I believe that an authentic corporate philosophy will continue to support the Noritake Group.
What do you see as the strengths and weaknesses of the Noritake Group?
There are many areas in which strengths are weaknesses and vice-versa, but the brand power, trust, and name recognition that the company has built as the top manufacturer of high-grade ceramics is a strength of the company. Moreover, the company has been able to seize the top share in polishing grinders, too, by developing its technology based on porcelain manufacturing. Looking ahead, I believe that the greatest issue for the company is the creation of new pillars of business that further leverage this technological base and customer base.
Besides tableware, almost all of the company's products are custom-made, with each product designed individually in terms of size, precision, and more, according to the customer's purpose of use. In terms of relationship with customers, Noritake has capabilities that other companies cannot touch, which is a strength. However, this can become a weakness when circumstances or the environment changes. I would like the company to work toward customer development and product development having the risk in mind, and to develop new pillars of business within the ceramics & materials area and the engineering area.
The company sold the former plant site located in its head office, in March 2019, securing a strong financial position. I hope that the company will enhance its investment efficiency, engage in active development investment, and grow into a company that continues tackling the challenges of new ceramics without limit.
What are your thoughts concerning corporate governance?
I believe that the expected roles that outside Directors must perform are extremely important in terms of the company's governance. I further consider it very important that I always act with this in mind.
I also believe that it is necessary to create systems and mechanisms, check whether each is making essential contribution to governance, make improvements year after year, and continue pursuing the ideal governance required for the company.