TOGETHER WITH COMMUNITIES
Together with employees
Our ESG
Corporate Governance

Together with Communities

Harmony with the Environment
Basic approach
Based on the Ethics Standards and Standards of Conduct set down in Noritake Group's Code of Ethics, the Noritake Group respects human rights and diversity of all our employees. It is our basic policy not to engage in any unjust discrimination in the hiring, assigning, promotion or treatment of employees on the basis of age, gender origin, nationality, race disability, religion, political party supported, etc., and we promote participation of diverse human resources.
As part of human rights education activities, we implement training on themes including human rights in the workplace and in corporate activities.
Human resource development
The Noritake Group is promoting human resource development centered on on-the-job training (OJT) at each workplace. To support this OJT effort, we conduct OFF-JT activities, such as "training by qualification" for new employees and candidates for promotion. We also provide "training by purpose" to teach employees specialized knowledge and skills on topics such as finance, legal affairs, and communication.
Correspondence courses are also provided for self-development, and there is a system that subsidizes tuition fees for courses particularly recommended by the company. Many employees use this system to improve their language skills and acquire official qualifications.
Number of employees receiving official qualifications and taking correspondence courses (people)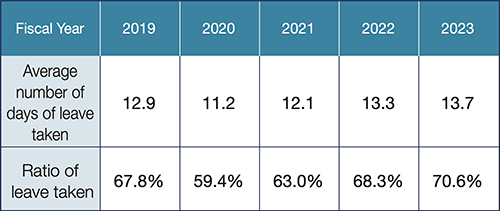 Human Resources courses that harness individuality
The Noritake Company offers multiple personnel courses so that each employee can fully harness their individuality in their work. Employees can change to a different course from the one they selected via reviews. For certain levels of positions, we have also established a system in which employees can analyze and evaluate their own capabilities and suitability for their work or their relationships within the workplace, and report them directly to the company.
Promotion of action plans based on the Act on Promotion of Women's Participation and Advancement in the Workplace
Based on the Act on Promotion of Women's Participation and Advancement in the Workplace, we have developed and promoted a "General Employers Action Plan." The aim of the plan is to advance diversity by promoting the active participation of women and contribute to securing excellent human resources and business growth.
Plan period: April 01, 2019 to March 31, 2022
We formulated a new action plan to create a work environment where women can play an active role, realize their abilities, and develop their careers. The goals are to increase the number of key female personnel in fiscal 2021 by 25% compared to fiscal 2018, double the number of female managers, create an environment where women can realize their abilities, and foster a culture that promotes the active role of women, and we are taking steps to achieve these goals.
In fiscal 2019, the number of women in the total course has increased as a result of the seminars and training that were conducted to raise the awareness of women's active participation in work and the development of female employee's abilities. From fiscal 2020, we will work to raise the consciousness of career development among female employees. We will also encourage male employees to share the same awareness by providing trainings for supervisors and providing awareness-raising leaflets for male employees.
Improving work-life balance
We promote improvements in the work-life balance of our employees. In supporting diverse work-styles among our employees, we restrict overtime work, encourage use of annual paid leave, and have established a variety of holidays and leave systems adaptable to personal life events. In recent years, we have introduced and increased the use of a system that allows employees to take annual paid leave in units of one hour, and promoted a flextime system for both shorter working hours and full-time employees who engage in child care and/or nursing care. As a result of our efforts, the idea or work-life balance has spread among employees to work efficiently while enjoying their private life.
Since last fiscal year, we have introduced a medical treatment support system that enables employees to continue working while undergoing treatment as a part of our efforts to create a better working environment for employees. We have also advanced our efforts to create an even more work-friendly environment by establishing a Maternity Reduced Work Hour System and Maternity Flex Time System, which employees can apply during the term or their pregnancy before they take maternity leave.
Safety and Health Management System
The Noritake Group believes that the foundation of our business activities is a comfortable work environment that is safe, hygienic, and allows employees to work in a healthy manner both physically and mentally. We also believe that it is our responsibility to undertake continual improvements.
Noritake Groups Basic Policy of Safety and Health
The Noritake Group actively works to create safe and comfortable working environments where employees gain satisfaction from their work with the recognition that protecting the safety and health of all our employees is the most important foundation of our corporate activities.
We prioritize safety and health over everything else.
We observe laws and company rules regarding safety and health and work to improve the standard of safety and health management.
We strive to maintain and improve good communication and ensure the participation of all employees.
In order to prevent occupational accidents and maintain the health of our employees, we set safety and health management targets every year based on the Group's Basic Policy of Safety and Health. The Safety and Health Committee is held every month to share examples of occupational accidents and countermeasures to prevent similar accidents. In addition, we distribute health and safety guidebooks to all employees and strive to make employees aware of the basics of safety and health and the precautions related to each type of work.
Health and Safety Management System diagram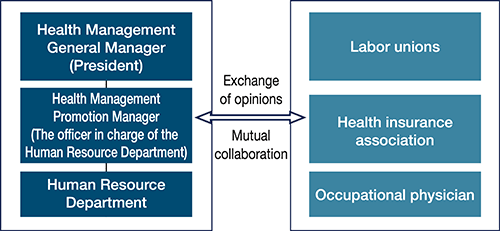 Initiatives to prevent occupational accidents
In fiscal 2019, we promoted company-wide safety and health activities in accordance with the concept of the Occupational Safety and Health Management System (OSHMS) and conducted internal audits to resolve problems and issues in activities and make continuous improvements. As initiatives to prevent occupational accidents, we have continued to develop hazard location mapping campaigns, safety experience education, and risk forecasting training. During fiscal 2020, we implemented a risk assessment re-evaluation, and carried out preventive activities with all members participating, while also engaging in ongoing safety observations in day-to-day management (two-way communication to ensure that workers follow the work standards and that managers create an environment conducive to doing so).
Employee health management
Promote health management
Understanding that the vitality of employees is the source of corporate vitality, Noritake adopted a Health Management Declaration on April 1, 2020. We actively work to improve the health of our employees and their families under our promotional structure, in which the company President serves as Group General Manager of the Corporate Administration Group, and the Human Resource Department works in partnership with health insurance associations, labor unions and occupational physicians.
Health Management Declaration
The Noritake Group understands the vitality of employees to be the source of corporate vitality, and we actively promote improvements in health for employees and their families.
・We work to improve health awareness.
Strengthen health education Foster a mindset that treasures health
・We work to enhance physical and mental health. Promote early detection & early treatment Help improve meals, exercise, sleep and other lifestyle habits Promote refreshment of body and mind
・We maintain the good work environment.
Maintain an environment in which everyone can work enthusiastically
System diagram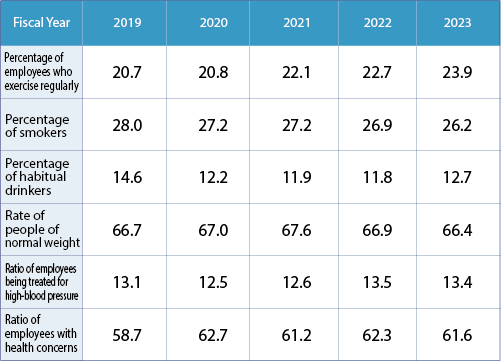 Health checkups and follow-up
We conduct regular general health checkups in the first half of the fiscal year, and specialized health exams throughout the year in order to identify diagnostic problems at an early stage. Due to our effort, health checkups were implemented to 100% of our employees. Considering lifestyle habit-related illnesses as a particularly important issue for employees, we have set our goal for the specific health guidance implementation rate at 55% by the end of fiscal 2021. By providing direct personal encouragement for employees to undergo health checkups, the number steadily improved the exam rate from 21.2% (fiscal 2016) to 45.5% (fiscal 2018).
Other than promoting specific health guidance, will keep encouraging all our employees, not just the ones with health risks, to achieve our goal.
We undertake to improve work environments by regularly conducting work environment measurements to determine whether manufacturing raw materials containing substances that may affect the human body, such as dust, organic solvents, and specified chemicals, are being handled appropriately.
Mental healthcare
We work to improve mental health by conducting mental health education to each employees at their level, from newly hired to managers.
Since fiscal 2016, we have conducted yearly stress checks, and implemented workplace improvement and analysis in light of the results of the organizational analysis. The overall risk level has been reduced for three consecutive years.