Ceramics & Materials
Thick Film Circuit Substrate

Decoration Materials

Electronic Paste (Thick Film)

Engineering Ceramics

Ceramic cores for precision casting

Gypsum
Technical Support

Catalog Download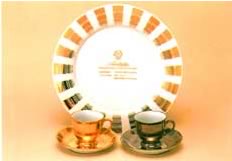 At Noritake, we handle a wide range of ceramic gold-plated products, including not just gold and platinum, but bright, semi-matte (no polishing required), and matte (polishing required) as well. These products can be applied in an attractive manner and are regarded as extremely easy to use. We also offer excellent abrasion resistance and detergent resistance as well as reliable quality and gold coloration.
These products are primarily used for ceramics, providing decorative precious-metal effects using only the best decorative materials for increasing product value.
| | |
| --- | --- |
| For porcelain | :720–880°C |
| For bone china | :750–850°C |
| For glass (soda crystal) | :500–600°C |
Firing temperatures may vary and undesirable coloration or depositions may result, depending on the composition of the unglazed ware. If that happens, show us the unglazed ware so we can test it and recommend the optimal conditions for firing it.
In order to achieve the best coloration, you should use specialized diluting solvent.