PRODUCTS
High-Accuracy Resinoid Wheel "Flatdy"
Grinding and Polishing Tools
Grinding Wheels

CBN Wheels

Diamond Tools

Coated Abrasive

Coolants

Related Products
Technical Support

Catalog Download

Grinding & Polishing Technical Information "NORITAKE TECHNICAL JOURNAL"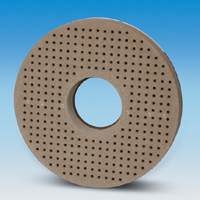 The Flatdy is a disc grinding wheel with a new bond system to produce a sharp cutting edge that delivers high quality, long life and high efficiency.
Stable cutting ability maintained by continuous honing of the cutting edge.
Grinding load absorbed via newly-developed high shock-absorbing bond.
Reduction in defects (burning, breaking, deformation), enabling high precision to be maintained.
Double disk grinding (bearings, connecting rods, rings, etc.)
Abrasive material
Conventional grain, ceramic grain
Grit size
F30-F220
Hardness
D – N
Size
Outer diameter: up to 915 mm
Thickness: up to 90 mm
Bond type
BHXS1, B137X
Comparison to standard wheels (size: φ585 × 65 × 195; machine: vertical surface grinder; workpiece: FC)
Note: Standard wheel shown with index of 100.
The Flatdy grinding surface suffers little grain abrasion, contributing to low power consumption, and its fine surface finishing ensures negligible variations in workpiece dimensions.