PRODUCTS
Grain Single-layered Metal Bonded CBN Wheel "CBN Grit Ace"
Grinding and Polishing Tools
Grinding Wheels

CBN Wheels

Diamond Tools

Coated Abrasive

Coolants

Related Products
Technical Support

Catalog Download

Grinding & Polishing Technical Information "NORITAKE TECHNICAL JOURNAL"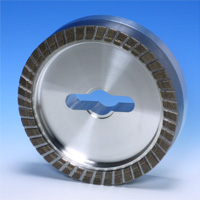 This wheel employs grains arranged in an ordered pattern and has a structure with the core firmly bonded by brazing. The new grinding wheel maintains its original high-precision grinding and achieves highly efficient machining that rivals cutters.
High grain protrusion (150% that of electrodeposition)
→ Delivers high-efficiency grinding comparable to that of milling.
High grain retention (200% that of electrodeposition or more)
→ Abrasive firmly bonded by brazing, resulting in long life time.
Ordered grain arrangement (controllable grain spacing)
→ Able to achieve stable, high-precision grinding surfaces.
Dual-layer structure consisting of a rough machining section and a finishing section
→ Can perform finishing at the same time as cutting.