Grinding and Polishing Tools
Grinding Wheels

CBN Wheels

Diamond Tools

Coated Abrasive

Coolants

Related Products
Technical Support

Catalog Download

Grinding & Polishing Technical Information "NORITAKE TECHNICAL JOURNAL"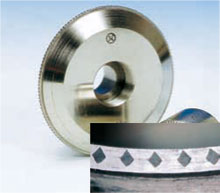 LL Rotary Dressers use prism-shaped synthetic diamonds that are sintered and aligned around the circumference. This type of rotary dresser uses a traverse dressing method which offers extremely high repeatability.
A breakthrough in dressing consistency
The prism-shaped diamonds are arranged in the direction of greatest abrasion resistance, minimizing inconsistencies in the abrasion edge surface and producing more even, consistent dressing.
Makes high-grade workpieces possible
Improved wheel forming accuracy produces extremely fine dimensional precision, surface roughness and roundness.
Lower grinding costs
Prism-shaped synthetic diamonds have a longer life than natural diamonds, reducing grinding costs.
Vitrified CBN wheels for internal grinding, angular grinding, cylindrical grinding, centerless grinding, surface grinding, etc.
LL Blade And Form Dressers
Multiple long prism-shaped synthetic diamonds are arranged in the direction of greatest abrasion resistance, minimizing inconsistencies in the contact surface of these dressers and producing an even and consistent dressing result.
In contrast to natural diamonds, the abrasive orientation and diamond shape are uniform, leading to a reduction in tool costs. Using an LL dresse blade and form in place of a forming dresser can result in particularly significant cost reductions.
Angular grinding, centerless step grinding, cylindrical step grinding, etc.
Be sure to install the dresser so it is not sitting at an angle in relation to the direction of wheel rotation.
Embedding single prism-shaped synthetic diamonds eliminates inconsistencies in the dresser contact surface and makes repair unnecessary.
With consistent dressing performance you can expect improved product quality, consistency, work performance and reduced tool costs.
From large-volume coarse grinding to highly precise grinding, matching the size of the diamond to the application enables these dressers to be used with a wide range of grinding types including cylindrical grinding, surface grinding, internal grinding, centerless grinding and tool grinding.
Install the dresser so that the nose's direction of movement is toward the center of the wheel, and so the installation angle does not change even if the wheel diameter is small.
These dressers, equipped with prism-shaped synthetic diamonds, are called cone point dressers when the nose is conical and pyramid point dressers when the nose is a square pyramid. They share the same features as the LL single-point dressers.
The nose point is centered in the middle of the shank, so even if the dresser is replaced, the contact position does not change, improving accuracy. They can be manufactured with any nose angle, assisting you in achieving a consistent dressing surface.
Used when dressing for high-precision internal grinding and form grinding.
Due to the extremely sharp nose, only use to dress with a cutting depth of 10 µm or less.
The angle must be set based on the workpiece, wheel shape and dresser movement.
Rotating the shank during use allows for continuous use over for long periods of time.
For pyramid point dressers, rotate 90º to match the ridge line when using.