PRODUCTS
Metal Bond Wheel for High Accuracy Profile Grinding "Keep Edge"
Grinding and Polishing Tools
Grinding Wheels

CBN Wheels

Diamond Tools

Coated Abrasive

Coolants

Related Products
Technical Support

Catalog Download

Grinding & Polishing Technical Information "NORITAKE TECHNICAL JOURNAL"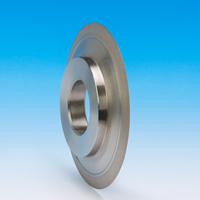 The Keep Edge is a high-precision metal V-face wheel developed for use with metal mold, punch, and general cutting tip profile grinding.
High accuracy grinding is possible due to high precision circularity of the rounded nose.
Good shape retention and long dressing interval.
Dressable type delivers fine grinding via machine dressing.
Range of nose angle available up to 5 degree.
Molds
Punches for lead frames
General punches
Grinding the profiles of general cutting tips
| | |
| --- | --- |
| Machine | Profile grinding machine |
| Feed | 3mm/min |
| Wheel | SD600MKE1 |
| Workpiece | Fine-grained, extra-hard |