Grinding and Polishing Tools
Grinding Wheels

CBN Wheels

Diamond Tools

Coated Abrasive

Coolants

Related Products
Technical Support

Catalog Download

Grinding & Polishing Technical Information "NORITAKE TECHNICAL JOURNAL"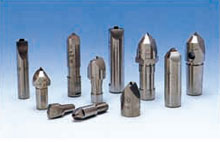 Also called a wedge-shaped dresser due to its wedged-shaped tip, a forming dresser can grind both sides in a wedge or rounded shape as well as both edge surfaces. The wedge is normally 1.5 – 2 mm in width and can be adjusted according to the specifics of a job. The diamonds used are chosen according to much more stringent requirements than those of an ordinary dresser.
Dressing wheels including those for angular grinders, diamond form grinders, stepped cylindrical grinders and screw grinders.
Use a dresser shape that meets your job requirements and wheel shape. If used with an unsuitable diamond angle or round shape, you will be unable to achieve the proper wheel shape.
Be sure to attach the dresser to the dresser jig correctly. Forming dressers differ from single-point dressers, and the dresser feed direction changes, so incorrect attachment is liable to break the diamond. In particular, a rounded diamond ridgeline requires the wheel spin direction to be parallel.
Use the dresser to produce a clearance angle of 10° – 15° to the wheel.