PRODUCTS
Crank Shaft Grinding CBN Wheel "Σ Wheel"
Grinding and Polishing Tools
Grinding Wheels

CBN Wheels

Diamond Tools

Coated Abrasive

Coolants

Related Products
Technical Support

Catalog Download

Grinding & Polishing Technical Information "NORITAKE TECHNICAL JOURNAL"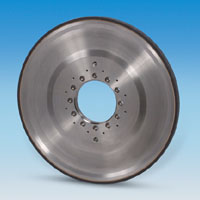 The Σ (sigma) Wheel is the ultimate tool for grinding parts susceptible to grinding burnings (parts such as crank shaft shoulders that have little exposure to coolant during grinding).
Noritake's proprietary CBN wheel technology can lower grinding resistance (and power consumption).
Grinding burnings can be significantly reduced and the lifespan of the grinding wheel as well as grinding quality can also be improved.
Crank shaft grinding, machining processes that easily produce grinding burnings
Comparison With Existing Wheel
| | |
| --- | --- |
| Wheel specifications | CB100M200VN1 |
| Workpiece | SCM435 (HRC48) |
| Wheel size | 380D×16T×80×15U×4X |
| Test wheel | (1) Standard wheel (2) Σ Wheel |
Standard wheel

Σ Wheel
Machining performance and power consumption
*Standard wheel shown with index of 1.0.
Grinding burnings suppressed even during high-efficiency machining.