Grinding and Polishing Tools
Grinding Wheels

CBN Wheels

Diamond Tools

Coated Abrasive

Coolants

Related Products
Technical Support

Catalog Download

Grinding & Polishing Technical Information "NORITAKE TECHNICAL JOURNAL"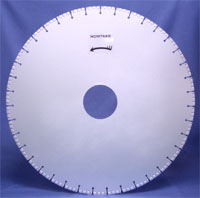 An OD Blade is a metal bond diamond blade used for cutting (cropping, block-sizing and squaring) the silicon ingots used as raw materials for solar cells.

Thanks to improvements in blade straightness, Noritake's OD Blades are effective in reducing kerf loss. In addition to metal bond blades, Noritake offers electrodeposition blades with outstanding sharpness.

Cutting performance has been improved through the use of corrugated, segmented blade tips.
Type
Grit size
Outer diameter
Thickness of grain layer
Metal bond type
#40-#200
φ400mm
2.5
φ450mm
3.2
φ500mm
3.4
φ560mm
3.4
φ600mm
4.0
φ800mm
4.5
φ915mm
4.5
φ1250mm
5.5