Grinding and Polishing Tools
Grinding Wheels

CBN Wheels

Diamond Tools

Coated Abrasive

Coolants

Related Products
Technical Support

Catalog Download

Grinding & Polishing Technical Information "NORITAKE TECHNICAL JOURNAL"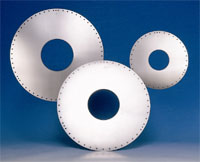 An ID Blade consists of a thin substrate with diamond electrodeposited on the inner circumference and are used for ingot cropping. The blade offers a thinner cutting edge to help improve yield rates.
Each blade features improved sharpness thanks to a thinner substrate, carefully chosen grain and an optimized specification.
Type
Size
diameter
diameter
diameter
thickness
thickness
electrodeposition
SW27
40/60
φ690mm
φ240mm
0.10~0.13mm
0.25~0.30mm
SW27
50/70
φ960mm
φ305mm
0.13~0.15mm
0.31~0.34mm