PRODUCTS
Beveling Wheel for Wafer
Grinding and Polishing Tools
Grinding Wheels

CBN Wheels

Diamond Tools

Coated Abrasive

Coolants

Related Products
Technical Support

Catalog Download

Grinding & Polishing Technical Information "NORITAKE TECHNICAL JOURNAL"
Beveling Wheel and Notched Wheel for Silicon and Sapphire Wafers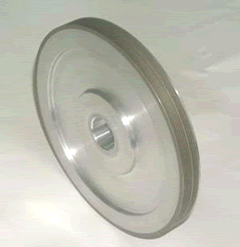 Grinding wheel for bevel machining of semiconductor material substrates.
Thanks to a design featuring a uniform layer of fine grains and high-precision finishing technology, this grinding wheel makes high-quality, high-precision machining possible with minimal chipping.Both outer-circumference machining and notch machining wheels are available in three types: single-groove, multi-groove, and composite rough finishing.
Even and ne diamond layer minimizes processing damage.
Wear resistant bond with a high grain holding force is used to achieve high shap eretention and a long life.
Highly precise slotted shape and nishing technology support various wafer shapes.
Copper-less supported.
Applications
Sapphire machining
Silicon machining
Emphasis on cutting
Standard
Emphasis on durability
Bond type
L-MSF
N-MB00
P-MB01
R-MB02
Beveling silicon wafers
Beveling sapphire wafers
Outer circumference
machining
Wheel size
φ202×20T×19U×30H×3.7X
φ202×20T×19U×30H×3.7X
Wheel specifications
SD800/1500 P - MB01
SD400 L - MSF
Notch machining
Wheel size
φ3.8×36L×11T×8U×1.4X
φ3.8×36L×11T×8U×1.4X
Wheel specifications
SD800/1500 P - MB01
SD400 L - MSF>SD400 L - MSF