PRODUCTS
New Super-finishing Wheel "Keen Stone"
Grinding and Polishing Tools
Grinding Wheels

CBN Wheels

Diamond Tools

Coated Abrasive

Coolants

Related Products
Technical Support

Catalog Download

Grinding & Polishing Technical Information "NORITAKE TECHNICAL JOURNAL"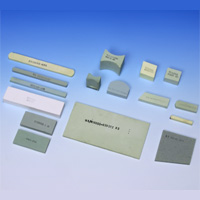 The Keen Stone achieves excellent cutting performance and consistent machined product quality through the fastidious pursuit of uniformity in wheel structure.
As there is very little chip deposition on the work surface, grinding volume can increase and consistent surface texture can be maintained.
In addition, Noritake is able to control the wheel structure, enabling us to provide wheels that are optimized for the grinding conditions.
Wheel
WA/GC 3000 -60 14V B3 □5.5XT (

◆

Standard wheel)
WA/GC 3000 -40 14V B3 □5.5XT (

●

Keen Stone)
Machine
Izumi Kinzoku Kogyo finishing grinder
Workpiece
#6203 inner ring (HRc60 or higher, previous roughness 0.2–0.3 μmRa)