PRODUCTS
Centerless Vitrified-bond CBN/Diamond Wheel "Seamless Centerless Wheel"
Grinding and Polishing Tools
Grinding Wheels

CBN Wheels

Diamond Tools

Coated Abrasive

Coolants

Related Products
Technical Support

Catalog Download

Grinding & Polishing Technical Information "NORITAKE TECHNICAL JOURNAL"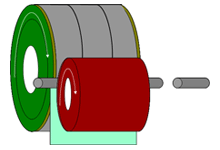 The Seamless Centerless Wheel is a vitrified-bond CBN/Diamond wheel with no glue joints and has been designed for high-precision machining.
Unlike the segment type wheel, eliminating the glue joints on the Seamless Centerless Wheel has ensured that intermittent grinding does not occur, resulting in machining precision based on the grain size used.
Precision micro shafts
Precision rollers
Peripheral grinding of fine components
The Seamless Centerless Wheel has no glue joints.