PRODUCTS
Grinding Wheel for Super-Hard Drill and Endmill Grinding "i-Flute"
Grinding and Polishing Tools
Grinding Wheels

CBN Wheels

Diamond Tools

Coated Abrasive

Coolants

Related Products
Technical Support

Catalog Download

Grinding & Polishing Technical Information "NORITAKE TECHNICAL JOURNAL"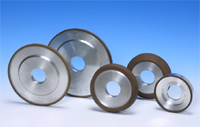 Machining the main grooves and gashes of round tools requires deep cutting and produces a lot of heat and as a result, resins with low heat tolerance will soften and lose their abrasiveness, becoming unable to cut. The i-Flute bond offers high grain retention and excellent heat tolerance, so it can stay sharp for longer and enables highly efficient machining with longer adjustment intervals.
Thanks to its excellent heat tolerance and high grain retention, the i-Flute retains sharpness and exhibits less wear, enabling highly efficient machining with longer adjustment intervals.
Developed as a versatile bond series, the i-Flute can accommodate different machines and workpieces according to their hardness.
Ideal for grinding grooves and blades for super-hard drills and endmills.
| | |
| --- | --- |
| Machine | CNC grinding machine |
| Workpiece | φ12-mm drill |
| Wheel speed | 1500m/min |
| Cut depth | 4.2mm |
| Feed speed | 60mm/min |
| Wheel (grit size) | SDC325 |
| Coolants | Waterless |