PRODUCTS
High-precision Flat Lapping CBN Wheel
Grinding and Polishing Tools
Grinding Wheels

CBN Wheels

Diamond Tools

Coated Abrasive

Coolants

Related Products
Technical Support

Catalog Download

Grinding & Polishing Technical Information "NORITAKE TECHNICAL JOURNAL"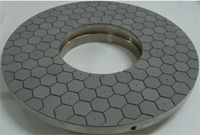 Vitrified-bond CBN wheels allow for highly efficient flat lapping in addition to creating extremely high-precision flat surfaces.
High precision can be maintained and machining time can be greatly reduced.
Chip removal occurs smoothly thanks to a groove in the middle of the tip, avoiding clogging and deposition.
Machining efficiency can be greatly improved thanks to the tip edge.
Lap machining of automotive parts
| | |
| --- | --- |
| Surface roughness | 0.05 μmRa |
| Efficiency | 40 μm/min |
| | |
| --- | --- |
| Machine | Peter Wolters flat lapping machine |
| Stock removal | 200μm |
| Wheel | φ720D×φ320H |
| Workpiece | 16-mm-diameter chromium steel (HR c60) |
| Wheel speed | 160 rpm |