PRODUCTS
Mirror-finish CBN Wheel
Grinding and Polishing Tools
Grinding Wheels

CBN Wheels

Diamond Tools

Coated Abrasive

Coolants

Related Products
Technical Support

Catalog Download

Grinding & Polishing Technical Information "NORITAKE TECHNICAL JOURNAL"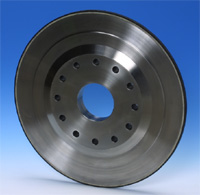 This is a vitrified-bond CBN wheel with a special structure to remove chips without deposition and achieve mirror-finishing by grinding alone.
Can produce a mirror surface equivalent to super-finishing through grinding alone.
Polishing work such as wrapping and super-finishing processes eliminated, facilitating shortening of the process.
Grinding wheel
CBN600 380X16X80 9U
Wheel speed
80m/s
Stock removal
φ40μm
Workpiece material

SCM435(HRc48) φ60

SUS420(HRc48) φ60

Spark out
5sec