PRODUCTS
Diamond Band Saw
Grinding and Polishing Tools
Grinding Wheels

CBN Wheels

Diamond Tools

Coated Abrasive

Coolants

Related Products
Technical Support

Catalog Download

Grinding & Polishing Technical Information "NORITAKE TECHNICAL JOURNAL"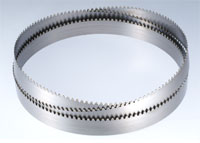 Diamond saw is used for cutting process such as cropping, blocking and squaring. Two types of product, metal bonded type for polycrystalline silicon and electroplated type for monocrystalline silicon, sapphire are available.
Features

1.The new bond (MS Series) and our original grain dispersion technology stabilizes the cutting performance.
2.Less dulling of the metal chip corners prevents inclined cutting.
3.Special stainless steel with high fatigue strength for the substrate enables a long life.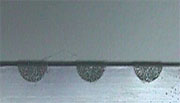 Feature

1. Special substrate enables high precision cutting.
2. High efciency and long life can be attained by selecting the electroplating type(pattern, continuous).
Cutting of silicon, glass, magnetic materials, carbon, etc.
Type
of grit size
Length
width

Substarate

thickness

Diamond layer

thickness

Metal bond
#60-120
3,660-10,000mm
40-155mm
0.5-1.25mm
1.0-2.5mm
Electroplated
#40-200
1,500-9,000mm
10-60mm
0.3-0.7mm
0.6-1.5mm
Cutting of silicon, sapphire, glass, magnetic materials, carbon, etc.