PRODUCTS
Resin Bond Wheel for High Quality Profile Grinding "Keep Bright"
Grinding and Polishing Tools
Grinding Wheels

CBN Wheels

Diamond Tools

Coated Abrasive

Coolants

Related Products
Technical Support

Catalog Download

Grinding & Polishing Technical Information "NORITAKE TECHNICAL JOURNAL"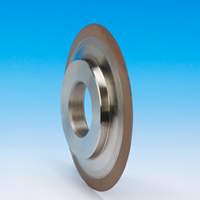 The Keep Bright is a high-precision (mirror surface) metal V-face wheel developed for use with metal mold, punch and general-cutting tip profile grinding.
Mirror grinding is possible due to good abrasives dispersion.
Strong grain holding ensures stable performance until final stage.
Angle of manufacturing range is up to 5 degree (bond limitations apply).
Metal molds
Punches for lead frames
General punches
Mirror surface profile grinding for general cutting tips
| | |
| --- | --- |
| Machine | Profile grinding machine |
| Feed | 1mm/min |
| Wheel | SD600BKB1 |
| Workpiece | Fine-grained, extra-hard |