PRODUCTS
Diamond Polishing Films "Alta AU-F / FR"
Grinding and Polishing Tools
Grinding Wheels

CBN Wheels

Diamond Tools

Coated Abrasive

Coolants

Related Products
Technical Support

Catalog Download

Grinding & Polishing Technical Information "NORITAKE TECHNICAL JOURNAL"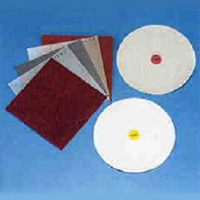 The Alta diamond polishing films can be used as a substitute for loose-grain polishing used in finishing processes for IT industry components (ferrule, semiconductor wafers, magnetic heads, etc.), and consist of a polyester substrate that combines uniform strength and thickness with excellent flexibility and elasticity. A fine coating of refined synthetic diamond grains are uniformly applied to the substrate, which imparts the desired properties. Products are available in a number of forms including discs, sheets and rolls. Alta films offer higher polishing efficiency than loose-grain polishing. They are also environmentally friendly and produce no waste slurry or wasted abrasive materials.
Consistently accurate polishing.
Very long polishing performance life.
Suitable for polishing curved surfaces.
Effective at wet polishing.
Adapted for automation.
Process 1: Adhesive removal #800–#2000 (waterproof paper)
Process 2: Shape loss SD1500AU-FR (Alta)
Process 3: Medium polishing SD4000AU-FR (Alta)
Process 4: Finish polishing SD10000AU-FR (Alta)