Grinding and Polishing Tools
Grinding Wheels

CBN Wheels

Diamond Tools

Coated Abrasive

Coolants

Related Products
Technical Support

Catalog Download

Grinding & Polishing Technical Information "NORITAKE TECHNICAL JOURNAL"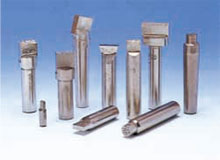 Used along with many diamond grains so the force while dressing a grinder with diamond particles is evenly distributed and dresser wear is reduced. This enables reliable dressing and a long life. The dresser feed speed can be increased to 2 to 4 times the speed of a single-point dresser, enabling shorter dressing times.
A grit dresser can be used in centerless grinders, cylindrical grinders and surface grinders with large wheels.
The dresser should be attached with the entire surface in contact with the wheel surface. A finer surface finish can be obtained using a grit dresser instead of a single-point dresser. If the surface finish is too fine, this can be remedied by increasing the dresser feed speed. Set the cutting depth to 0.03 – 0.05 mm for rough finishing and 0.01 – 0.02 mm for finishing. Be careful with the coolant supply and how firmly the dresser is attached when dressing.
Shape and Size of Diamond Layer
Shape
Code
Dimensions
W
L
X
1A
4
10
7
2A
6
13
7
3A
6
20
7
Shape
Code
Dimensions
W
L
X
1B
6
13
9
2B
6
20
9
Shape
Code
Dimensions
d
X
1R
3
3
2R
6
6
3R
9
9
| Code | Grit size | Adjusted wheel grit size |
| --- | --- | --- |
| 4 | Coarse (♯16) | #46 or coarser |
| 6 | Medium (♯20) | ♯54-100 |
| 8 | Fine (♯30) | #120 or finer |