PRODUCTS
Porous Vitrified-bonded Diamond Wheel "VDH Wheel"
Grinding and Polishing Tools
Grinding Wheels

CBN Wheels

Diamond Tools

Coated Abrasive

Coolants

Related Products
Technical Support

Catalog Download

Grinding & Polishing Technical Information "NORITAKE TECHNICAL JOURNAL"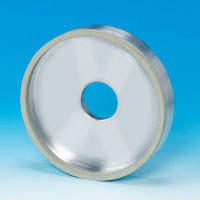 Noritake's newly-developed porous vitrified-bonded diamond VDH Wheel has been designed for PCD polishing and demonstrates performance, sustained cutting and high-quality not seen in conventional tools.
Significant improvements in sustained cutting ability with a newly-developed and high-strength bond and uniform porous structure.
Noritake has arranged two grades to meet your requirements.
Whether sharpness or longevity is a priority, your exact needs can be met.
Emphasis on cutting
Emphasis on long life
Wheel specifications
SD-VDH1
SD-VDH2
Features
Grinding ability
◎
○
Cutting sustainability
◎
○
Wheel life
○
◎
Ground surface quality
○
◎
| | |
| --- | --- |
| Workpiece | PCD (1500); width: 6 mm; thickness: 0.5 mm |
| Wheel speed | 600 m/min |
| Cut depth/speed | 0.1 mm (machining speed: 0.1 m/min) |
Test wheel: SP1500-VDH (for finishing)