PRODUCTS
Rubber Grinding VRG Wheel
Grinding and Polishing Tools
Grinding Wheels

CBN Wheels

Diamond Tools

Coated Abrasive

Coolants

Related Products
Technical Support

Catalog Download

Grinding & Polishing Technical Information "NORITAKE TECHNICAL JOURNAL"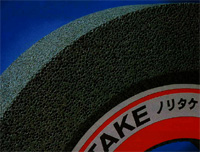 The VRG wheel is characterized by the countless spherical pores on its grinding surface.
Thanks to minimal chip clogging, there is no need for a deep cutting depth, and stable cutting of relatively rigid rubber and plastic is possible.
Its production range covers grit sizes of F60 – F220, hardness A – F, and a structure of 20 or so.
It is suitable for cylindrical grinding and surface grinding but has difficulty grinding soft rubber with low elasticity.
Relatively little chip clogging occurs as a result of grinding soft, elastic work material, making it possible to grind such materials which had been difficult to machine until now.
Low-energy grinding.
Low-noise grinding.
Long dressing interval.
Good cutting performance.
Minimal grain loss.
Few feed marks produced.
With a coarse structure design from independent spherical pores, after the grains are dressed, the cutting edge is less susceptible to flattening or wearing down and has superior cutting performance.
Hard rubber roller grinding
| | |
| --- | --- |
| Grinding wheel | GC80B+20VRG 455×205×228.6 |
Synthetic rubber roller grinding
| | |
| --- | --- |
| Grinding wheel | GC80C20VR 60×100×304.8 |
Urethane rubber roller grinding
| | |
| --- | --- |
| Grinding wheel | GC100B20VRG 305×38×127 |
Hard plastic shaft grinding
| | |
| --- | --- |
| Grinding wheel | GC120B20VRG 305×32×127 |