Dispersion System "JSP Series"
PRODUCTS
Dispersion System "JSP Series"
Engineering
Heating Furnaces / Kilns

Drying Furnace

Batch Kiln

Far Infrared Conveyer Furnace

Other Drying Furnaces

Roll to Roll Far-infrared Heating Furnace

Far Infrared Heater

Firing Kiln

Roller Hearth Kiln

Rotary Kiln

Batch Kiln

Refractory

Search by industry or usage

Energy

Electronics

Automobiles

Displays and lighting

Other

Mixing Technology

SM Engineering Equipment

Heating and Cooling Systems

Mixing Systems

Powder and Liquid Dispersion System

Reaction System

Laboratory Test Systems

Heat Exchangers

Static Mixer (SM)

Gas absorption(Option)

Homogenization

Miixing

Option Parts

Search by industry or usage

Cooker / Steam Mixer

Cutting Machine (Thin Cut Master : TCM)

Filtration Systems

Search lubricants

Coolant Filtration Systems

Centrifuge

Coolant Tank Unit

Magnetic Separator

Cyclone Separator

Paper Filter

Backwash Filter

Centralized Filtration Systems

Search filtration materials

Filtration Related Systems

Ceramic filter
Technical Support

Catalog Download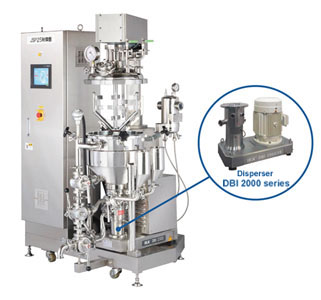 JSP is an all-in-one device, capable of mixing, dispersing, emulsification and wet grinding with this one unit. Technology developed in Germany has been reborn into this Japanese model. JSP units are hard at work in many industries including food, medicine, cosmetics and electronics.

【Fully controllable degree of dispersion】
Control the particle size by changing the kinds of the generator or the speed of the disperser.
【Inject raw material without opening the lid during the operation】
Powder or liquid is suctioned from the sub hopper directly into the disperser stage. This prevents clumping and facilitates density control.
【Supports treatment for high viscosity liquid】
Maximum viscosity 100,000 mPa・s
【Multi-function supporting assorted applications】
Supports heating and cooling of the chamber as well as vacuum degassing
【Shortens the production time】
Combines mixer and disperser for efficient mixing and dispersing
【Proposal for combination】
We can offer proposals for systems including processes before and after this unit incorporating many other kinds of machines such as static mixer.
[Food] Mayonnaise, Chocolate sauce, Peanut butter, Ketchup, Sauce, Dressing etc.
[Medicine/Cosmetics] Hair care supplies, Foundation, Lipstick, Toothpaste, Ointment, Eye drop etc.
[Electronics] LIB electrode slurry, Carbon slurry, Silver paste, Copper slurry, Nickle slurry, Insulating resin etc.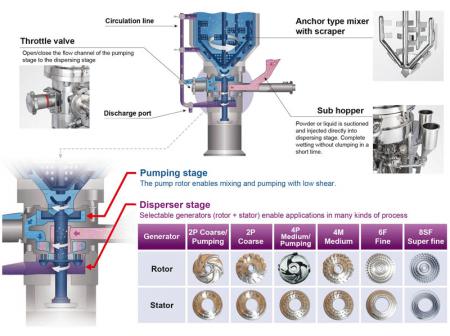 Model
JSP25
JSP50
JSP100
JSP250
JSP500
JSP1000
Tank
Data
Effective maximum
treatment capacity
25L
50L
100L
200L
500L
1,000L
Effective minimum
treatment capacity
5L
10L
20L
40L
100L
200L
Tank total capacity
32L
65L
130L
260L
650L
1,350L
Product
Data
Product pressure
Atmospheric pressure (Standard specification) -0.1MPa~
/(Optional pressurized tank) -0.1~0.25MPa
Product
temperature
-10~150℃
Product viscosity
1~100,000mPas
Anchored
mixer
Motor capacity
1.5kW
1.5kW
2.2kW
3.7kW
5.5kW
7.5kW
Shaft rotation speed
225rpm
165rpm
135rpm
110rpm
81rpm
65rpm
Shaft seal
Radial shaft sealing (PTFE compounds)
Disperser
DBI
Model
2000/04
2000/05
2000/10
Motor capacity
3.7kW
7.5kW
22kW
Dispersing tools
Top: Pump rotor P / Bottom: Generator 4P
Shaft tool
Double mechanical seal (with sealing liquid pressurizing system)
Pumping stage max. flow
(in case of water)
6,000L/h
15,000L/h
40,000L/h
Disperser stage max flow
(in case of water)
2,000L/h
5,000L/h
20,000L/h
Other
Control
Touch panel
Piping
ISO ferule
Wetted parts material
SUS316L / SUS316Ti / SUS304
Standard equipment
Mixer scraper and baffle blade, DBI jacket, DBI supply hopper for additives etc.
Option
Tank temperature sensor, automatic valve, load cell, vacuum pump etc.
*It can be designed to meet client's requirement. Pleaser inquire for more details.
*Please feel free to contact us to see for yourself with our JSP25 trial unit.