Engineering
Heating Furnaces / Kilns

Drying Furnace

Batch Kiln

Far Infrared Conveyer Furnace

Other Drying Furnaces

Roll to Roll Far-infrared Heating Furnace

Far Infrared Heater

Firing Kiln

Roller Hearth Kiln

Rotary Kiln

Batch Kiln

Refractory

Search by industry or usage

Energy

Electronics

Automobiles

Displays and lighting

Other

Mixing Technology

SM Engineering Equipment

Heating and Cooling Systems

Mixing Systems

Powder and Liquid Dispersion System

Reaction System

Laboratory Test Systems

Heat Exchangers

Static Mixer (SM)

Gas absorption(Option)

Homogenization

Miixing

Option Parts

Search by industry or usage

Cooker / Steam Mixer

Cutting Machine (Thin Cut Master : TCM)

Filtration Systems

Search lubricants

Coolant Filtration Systems

Centrifuge

Coolant Tank Unit

Magnetic Separator

Cyclone Separator

Paper Filter

Backwash Filter

Centralized Filtration Systems

Search filtration materials

Filtration Related Systems

Ceramic filter
Technical Support

Catalog Download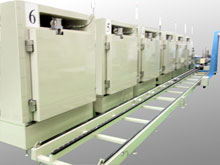 Most general standing type batch kiln. Abundant line-up makes it possible to produce kilns to match any request for specifications and capacity.
To meet space saving requirements for factories and research centers, We supply kilns in compact designs.
Opening section is sealed with a special mechanism which contributes to gas saving and energy saving.
Wide range of temperature profile and atmosphere conditions Will be accommodated even in cases where temperature and atmospheric condition are not specified such us for R&D purposes.
To some extent, the batch type kiln is superior to the continuous kiln in both initial cost and space factors. Additionally, it effectively reduces one time investment.