PRODUCTS
Ceramic Triple Roll Mill
Engineering
Heating Furnaces / Kilns

Drying Furnace

Batch Kiln

Far Infrared Conveyer Furnace

Other Drying Furnaces

Roll to Roll Far-infrared Heating Furnace

Far Infrared Heater

Firing Kiln

Roller Hearth Kiln

Rotary Kiln

Batch Kiln

Refractory

Search by industry or usage

Energy

Electronics

Automobiles

Displays and lighting

Other

Mixing Technology

SM Engineering Equipment

Heating and Cooling Systems

Mixing Systems

Powder and Liquid Dispersion System

Reaction System

Laboratory Test Systems

Heat Exchangers

Static Mixer (SM)

Gas absorption(Option)

Homogenization

Miixing

Option Parts

Search by industry or usage

Cooker / Steam Mixer

Cutting Machine (Thin Cut Master : TCM)

Filtration Systems

Search lubricants

Coolant Filtration Systems

Centrifuge

Coolant Tank Unit

Magnetic Separator

Cyclone Separator

Paper Filter

Backwash Filter

Centralized Filtration Systems

Search filtration materials

Filtration Related Systems

Ceramic filter
Technical Support

Catalog Download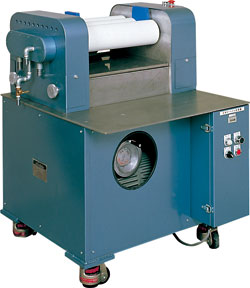 The Ceramic Triple Rolling Mill system disperses, kneads, and mixes high-viscosity fluids like paste and resin.
Model
NR-42A
NR-84A
NR-120A
Roller material
Hard ceramics (high-alumina)
Roller hardness
8.8–9.0 (Mohs' hardness)
Roller diameter
42mm
84mm
120mm
Roller length
180mm
250mm
450mm
Roller rotation ratio
1:2:4
1:2.8:7.9
1:2.8:7.9
Roller cooling method
Air cooling
Water cooling
Water cooling
Motor
200 V three-phase 0.4 kW
Variable speed system
200 V three-phase 1.5 kW
Inverter system
200 V three-phase 2.2 kW
Variable speed system
External dimensions
415L×440W×430H (mm)
930L×550W×940H (mm)
1100L×920W×1100H (mm)
Machine weight
65kg
250kg
430kg
Capacity
10kg/h
20kg/h
40kg/h
Note: For non-standard specifications, we also make rollers with diameters of 180 mm and 240 mm.
The triple roller mill, which uses Noritake's high-alumina ceramics, is used mainly for pre-production processing at manufacturing plants that manufacture from finely powdered materials or using molds.
This mill is widely used as the most effective dispersion machine (kneading machine) for carrying out kneading and dispersion of high-viscosity solid/liquid agglomerates, including powders, liquids, binding materials, and additives, which determine product quality. Effective dispersal also improves product quality by increasing usable life and sanitary qualities, and it contributes greatly to lowering costs.
Because the parts that come into contact with liquid are made of ceramics or plastic, there is no admixture of metal components.
Free adjustment of the roller rotation count allows for fine-tuning of the processing volume and dispersal characteristics.
A variety of options that improve safety and ease of operation can be added to the machine, including emergency stops, safety covers, limit switches, and manual roller-turning handles. (The options available for adding to the NR-42A are limited.)
Adjusting rollers in parallel is easy, reducing inconsistencies caused by differences in operators.
Machines can be constructed to satisfy anti-combustion specifications.
Electronic component materials, paint, printing pigments, various inks, adhesives, food products, medical products, cosmetics, oils, fine ceramics, and more