Engineering
Heating Furnaces / Kilns

Drying Furnace

Batch Kiln

Far Infrared Conveyer Furnace

Other Drying Furnaces

Roll to Roll Far-infrared Heating Furnace

Far Infrared Heater

Firing Kiln

Roller Hearth Kiln

Rotary Kiln

Batch Kiln

Refractory

Search by industry or usage

Energy

Electronics

Automobiles

Displays and lighting

Other

Mixing Technology

SM Engineering Equipment

Heating and Cooling Systems

Mixing Systems

Powder and Liquid Dispersion System

Reaction System

Laboratory Test Systems

Heat Exchangers

Static Mixer (SM)

Gas absorption(Option)

Homogenization

Miixing

Option Parts

Search by industry or usage

Cooker / Steam Mixer

Cutting Machine (Thin Cut Master : TCM)

Filtration Systems

Search lubricants

Coolant Filtration Systems

Centrifuge

Coolant Tank Unit

Magnetic Separator

Cyclone Separator

Paper Filter

Backwash Filter

Centralized Filtration Systems

Search filtration materials

Filtration Related Systems

Ceramic filter
Technical Support

Catalog Download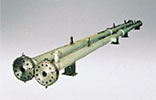 Mainly used for cooling of resins in the chemical industry and polymer cooling in the synthetic fiber industry.
Material
304S.S Acid cleaned fi nish
Element Fixing
Both end weld or Edge seal *1
or removable (Fixed Ring) *2
Fixing
JIS 10K Flange
*1 The entire element is fixed to the heat exchanger tube.
*2 The ring installed on the fluid entrance side element is fixed by being sandwiched by a flange.
Model
Nominal
Diameter (ND)
Number
of
Elements
Outside
Diameter (OD)
ODmm
Inner
Diameter (ID)
IDmm
Thickness
Tmm
Amm
Bmm
Length
Lmm
Jacket
Pipe (3)
Heating
area
m2
Mass
kg
(1)
(2)
SMHED-25I (29)
2"
1"
29
34.0
27.2
3.4
120
120
1,200
2"Sch20S
0.12
15
SMHED-40I (19)
2 1/2"
1 1/2"
19
48.6
41.2
3.7
120
120
1,200
2 1/2"Sch20S
0.17
23
SMHED-50I (15)
3"
2"
15
60.5
52.7
3.9
120
120
1,200
3"Sch20S
0.22
29
SMHED-65I (12)
4"
2"
12
76.3
65.9
5.2
130
120
1,200
4"Sch20S
0.27
38
SMHED-80I (10)
5"
2"
10
89.1
78.1
5.5
150
120
1,200
5"Sch20S
0.32
51