Roll to Roll Far-infrared Heating Furnace
PRODUCTS
Roll to Roll Far-infrared Heating Furnace
Engineering
Heating Furnaces / Kilns

Drying Furnace

Batch Kiln

Far Infrared Conveyer Furnace

Other Drying Furnaces

Roll to Roll Far-infrared Heating Furnace

Far Infrared Heater

Firing Kiln

Roller Hearth Kiln

Rotary Kiln

Batch Kiln

Refractory

Search by industry or usage

Energy

Electronics

Automobiles

Displays and lighting

Other

Mixing Technology

SM Engineering Equipment

Heating and Cooling Systems

Mixing Systems

Powder and Liquid Dispersion System

Reaction System

Laboratory Test Systems

Heat Exchangers

Static Mixer (SM)

Gas absorption(Option)

Homogenization

Miixing

Option Parts

Search by industry or usage

Cooker / Steam Mixer

Cutting Machine (Thin Cut Master : TCM)

Filtration Systems

Search lubricants

Coolant Filtration Systems

Centrifuge

Coolant Tank Unit

Magnetic Separator

Cyclone Separator

Paper Filter

Backwash Filter

Centralized Filtration Systems

Search filtration materials

Filtration Related Systems

Ceramic filter
Technical Support

Catalog Download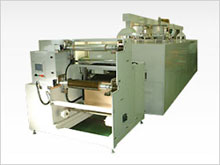 Clean Heating

Low dust operation was realized by using Noritake Far Infrared Heater. Hot air through HEPA filters are used to improve the clean level of atmosphere to clean level 1000.

Reduced Heating Time

Considerable reduction of heating times is realized by a synergetic effect of zone-controlled radiation heating of far infrared and thermal diffusion by down blow.
Higher precision temperature profiles is realized by a combination of Far Infrared and clean hot air.
Far infrared heating acts directly on the work exciting thermal motion increasing the temperature without heat loses which would otherwise be released into the heat transfer medium. Reduced heat loss to heat transfer medium and reduced heating time allow low running cost.
Total systems including roll-in and roll-out equipment are available
TAB / COF
Drying for photo-resist painting.
Drying for back side adhesives painting
Drying for solder resist printing
Drying for water draining
FPC
Drying for photo-resist painting
Drying for solder resist printing
Drying for water draining
Film
Drying forMembrane switch printing
Drying for IC card printing
Drying for display film printing
FCCL
Polyimide curing
Roll to Roll Far-infrared Heating Furnace Product List