Engineering
Heating Furnaces / Kilns

Drying Furnace

Batch Kiln

Far Infrared Conveyer Furnace

Other Drying Furnaces

Roll to Roll Far-infrared Heating Furnace

Far Infrared Heater

Firing Kiln

Roller Hearth Kiln

Rotary Kiln

Batch Kiln

Refractory

Search by industry or usage

Energy

Electronics

Automobiles

Displays and lighting

Other

Mixing Technology

SM Engineering Equipment

Heating and Cooling Systems

Mixing Systems

Powder and Liquid Dispersion System

Reaction System

Laboratory Test Systems

Heat Exchangers

Static Mixer (SM)

Gas absorption(Option)

Homogenization

Miixing

Option Parts

Search by industry or usage

Cooker / Steam Mixer

Cutting Machine (Thin Cut Master : TCM)

Filtration Systems

Search lubricants

Coolant Filtration Systems

Centrifuge

Coolant Tank Unit

Magnetic Separator

Cyclone Separator

Paper Filter

Backwash Filter

Centralized Filtration Systems

Search filtration materials

Filtration Related Systems

Ceramic filter
Technical Support

Catalog Download
One of our strengths is the wide range of knowledge in firing processes, which enables us to offer reliable products.
We offer the best material, size and shape along with specialized processing to meet our customer's demands.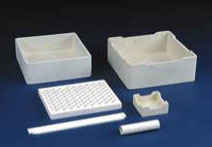 Mullite・Cordierite
It has high thermal-shock property, which allows high speed firing and rapid cooling. It offers high purity and porosity, and is capable of dealing with special shapes.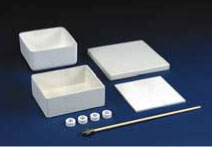 Alumina
The high heat resistance characteristic makes operations in high temperature zones possible. The high bending strength is also suitable for stacking. We have extensive lineup of alumina which enables us to offer you various options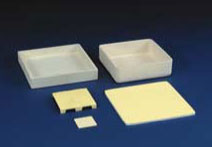 Magnesia・Zirconia
The most heat-resistant products. It has high anti-reactivity against alkaline products, offering a long operating lifetime.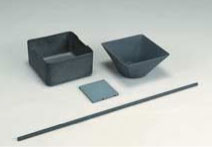 SiC
Great heat-conductivity corresponds to rapid heating/cooling of products. The great bending strength is suitable for high-loading products.
Porosity
(%)
Bulk
Density
(g/cm3)
Bending
Strength
(MPa)
Thermal
Expansion(%)
at 1000°C
Thermal
Conductivity
(W/mK)
Chemical
Components(%)
Max. working
Temperature
(°C)
Al2O3
SiO2
MgO
KR-4A
Sagger, Plate
29
2.1
9
0.30
0.9
57.3
32.6
8.3
1200°C
ANC
Sagger, Plate
35
1.9
13
0.23
1.2
53.9
37.0
5.6
1200°C
MT-70
Plate
30
2.1
6
0.32
0.9
60.0
35.0
3.0
1200°C
Porosity
(%)
Bulk
Density
(g/cm3)
Bending
Strength
(MPa)
Thermal
Expansion(%)
at 1000°C
Thermal
Conductivity
(W/mK)
Chemical
Components(%)
Max. working
Temperature
(°C)
Al2O3
SiO2
MgO
NR-H
Sagger, Plate
24
2.3
11
0.36
1.8
65.0
35.0
-
1200°C
P1
Plate
71
1.1
10
0.77
0.6
84.0
16
-
1200°C
Porosity
(%)
Bulk
Density
(g/cm3)
Bending
Strength
(MPa)
Thermal
Expansion(%)
at 1000°C
Thermal
Conductivity
(W/mK)
Chemical
Components(%)
Max. working
Temperature
(°C)
Al2O3
SiO2
MgO
MY-99X
Sagger, Plate
<0.1
3.9
300
0.80
31
99.7
-
-
1600°C
MM-8
Sagger, Plate
20
3.2
25
0.83
2.9
99.8
-
-
1600°C
MM-3
Plate
25
2.8
20
0.58
2.6
91.1
8.8
-
1500°C
Porosity
(%)
Bulk
Density
(g/cm3)
Bending
Strength
(MPa)
Thermal
Expansion(%)
at 1000°C
Thermal
Conductivity
(W/mK)
Chemical
Components(%)
Max. working
Temperature
(°C)
Al2O3
SiO2
MgO
MK-3AM
Sagger, Plate
35
2.0
8
0.29
1.4
57.4
19.2
19.8
1200°C
MK-7-3
Sagger, Plate
25
2.6
6
0.75
1.5
69.9
4.5
24.8
1200°C
Porosity
(%)
Bulk
Density
(g/cm3)
Bending
Strength
(MPa)
Thermal
Expansion(%)
at 1000°C
Thermal
Conductivity
(W/mK)
Chemical
Components(%)
Max. working
Temperature
(°C)
Al2O3
SiO2
MgO
MY-PS
Sagger, Plate
<0.1
3.2
100
1.30
15
0.4
0.4
98.5
1600°C
MY-M99
Sagger, Plate
17
3.0
13
1.30
3.9
0.2
0.3
98.8
1600°C
Porosity
(%)
Bulk
Density
(g/cm3)
Bending
Strength
(MPa)
Thermal
Expansion(%)
at 1000°C
Thermal
Conductivity
(W/mK)
Chemical
Components(%)
Max. working
Temperature
(°C)
Al2O3
SiO2
MgO
TZ-Y
Plate
<0.1
5.6
200
1.00
3.0
ZrO2+Y2O3=99.8%
1750°C
MY-Z42
Sagger, Plate
20
4.5
15
0.58
0.8
ZrO2+CaO=99.0%
1750°C
Porosity
(%)
Bulk
Density
(g/cm3)
Bending
Strength
(MPa)
Thermal
Expansion(%)
at 1000°C
Thermal
Conductivity
(W/mK)
Chemical
Components(%)
Max. working
Temperature
(°C)
Al2O3
SiO2
MgO
HE-902
Plate
<0.1
3.1
450
0.44
180
SiC=98.0%
1450°C
KM-8
Sagger, Plate
23
2.4
79
0.43
154
SiC=99%
1350°C
Porosity
(%)
Bulk
Density
(g/cm3)
Bending
Strength
(MPa)
Thermal
Expansion(%)
at 1000°C
Thermal
Conductivity
(W/mK)
Chemical
Components(%)
Max. working
Temperature
(°C)
Al2O3
SiO2
MgO
MY-C1
Sagger, Plate
15
1.7
14
0.3
150
C=99.0%
-
*Maximum working temperature depends on the processing objects and conditions.
(Grades other than listed above are also available.)